How to Install Google Analytics in WordPress by MonsterInsights

We have experienced many pivots in the technology and new inventions replacing the old ones, even though they were famous. There's one exception I can highlight in online marketing, and it's Google Analytics.
Being the most used search engine, we don't have many choices to shift from Google. However, Google Analytics provides all the stats regarding your website, and it helps us make the next decision right.
This post will show you some easy steps to sign up for this tool and how to install Google Analytics in WordPress websites. No matter your skill level, this post is for everyone because there's nothing complicated.
Why do you need analytics for your website?
If this is the question running in your head right now, then rest assured. You're not the only one. Many people, especially beginners, have little clue about the importance of getting involved with an analytics tool.
Knowing your audience: An analytics tool will let you know who your audience is and what they do on your website. The number of page views per month, the number of daily visitors, user's activities – there is every kind of stats available with an analytical tool.
Measuring eCommerce: Don't you need to know how your shop is performing? What do people do before purchasing something? How many people abandoned the cart? Well, all of this information is available inside the report.
Funnel design: People come and buy what they want. It doesn't work in reality. You have to understand their needs and keep everything in order, so they feel at home. By analyzing the funnel – what stages they pass before coming to the checkout – you can discover a lot of unknown facts.
Customer retention: The more you know about your visitors, the better you can find a way to turn those people into your customers. If they leave unsatisfied, you can learn why. If they want more, you can explore that, as well. A rigorous analytics toolkit can help you get more from your customers.
Informed decision: Throwing stones in the dark will not give you a topper position in online business. Making a decision blindfolded is useless. That's where analytics tools come with robust solutions. As you have all the data, now you can decide what is right. Eventually, you can provide what's expected.
Improve your business: Without understanding your target audience, you'll never know where you are lagging. What are you missing? What step do you need to take at the moment? Why isn't your business taking off? By analyzing all the data, you can devise a plan that means success.
What's Google Analytics, and why do you need it?
Google Analytics is the most reliable analytics tool that can help you understand your audience and your website's performance. Simply put, it's your growth partner that collects data and provides an in-depth report regarding your site's achievements.
You can see the current visitors on your website and where they're browsing. Which pages are performing best, which queries are people searching for, where they're coming from – all of this information is found in Google Analytics report.
Apart from that, you can customize the report as you wish: based on months, weeks, pageviews, pick time, downtime, and more. In today's highly competitive market, it's vital to know about the buyer persona. Google Analytics will let you find more information for visitor's age, location, device, and staying time.
If you're not already a Google Analytics user, get along with this super excellent tool right away. This post will walk you through some simple steps to install Google Analytics for your website.
What is MonsterInsights?
MonsterInsights is the best WordPress plugin that makes a bridge between Google Analytics and your WordPress site. It's easy, uncomplicated, growth-focused, and on top of that – beginner-friendly. It simply brings Google Analytics in your WordPress dashboard with real-time data.
From eCommerce tracking to affiliate links tracking, this analytics plugin has many powerful options to get elaborate insights for your website. You can even remain connected with your favorite tools because it offers a barrage of third-party integrations. This tool is coming from the same house that built WPForms WordPress form builder.
How to install Google Analytics in WordPress with MonsterInsights
WordPress makes our lives easier. There's no other easier way to explain how beneficial this CMS is. In my view, the best of WordPress is its plugins. For almost any problem regarding your website, there's a perfect solution with a WordPress plugin, and you can understand why millions of people are trusting these toolsets.
Well, installing Google Analytics and connecting it to your website was never easier. Thanks to MonsterInsights, it's not giving you only the best way to install the analytics, but you can see all the reports right from your WordPress dashboard. I can't help choosing this plugin as it offers the best user-friendly options.
The following steps will tell you where to start and how to get into the world of growth. Happy analyzing!
Google Analytics Signup
Getting started with Google Analytics begin with the signup. That's what I'm going to show you first.
Step 1 – Sign in to Google Analytics
Let's go to the Google Analytics login page. Give your Gmail address and click Next, then give your password and Sign in. If you don't have a Google account, click the Create account and sign up for a Google account first.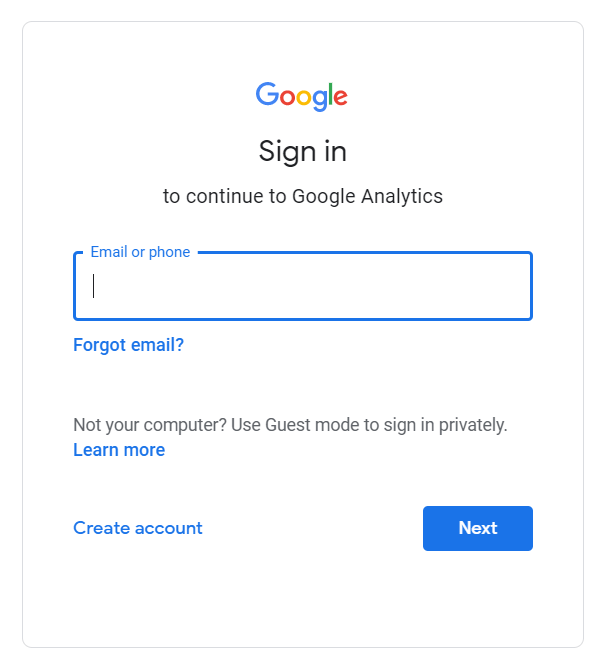 Step 2 – Enter the Google Analytics account creation process
When you are successfully logged in Analytics with your Gmail account, you can see the appearance similar to the image I have attached here.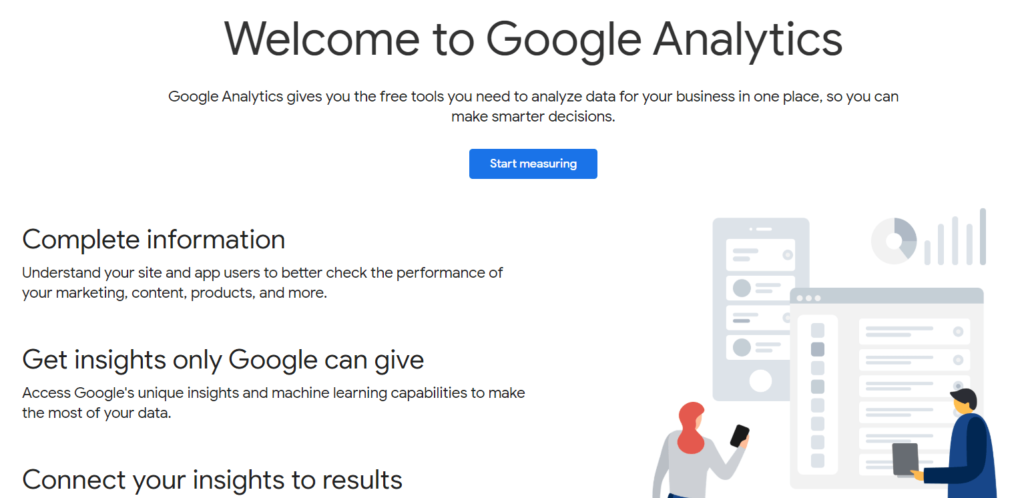 Step 3 – Account setup with adding your name
From the three consecutive steps, you have to provide a name as an Account name. Give it a name – preferably your name. Remember, this is the Analytics account. You will add multiple properties later for all your websites separately under one account.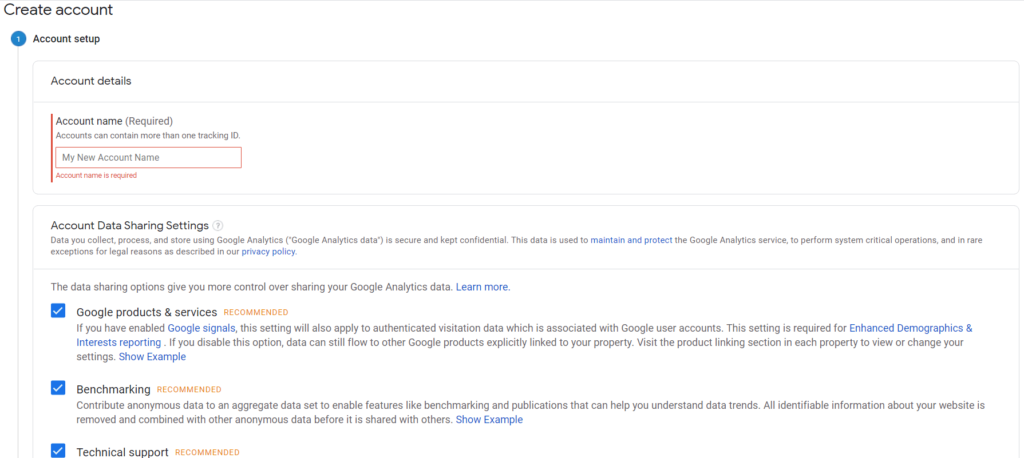 Step 4 – Choose what you want to measure
At this stage, you'll be given three choices from what you will pick one.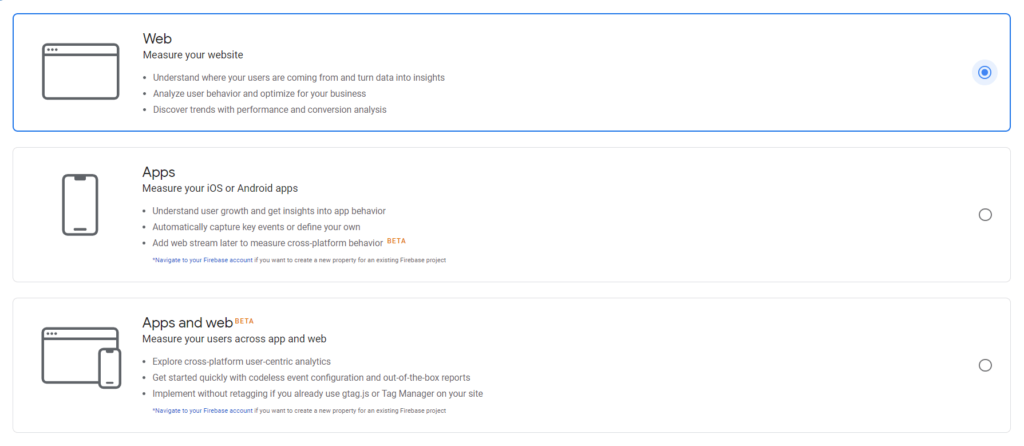 Web: Discover users locations, staying on your website, and activities
Apps: Analyze the performance of iOS or Android apps
Apps and web: Monitor the key performances of cross-platform actions
Usually, you're going to select the first one – Web.
Step 5 – Property setup
Now you'll be prompted to a new screen where you're going to set up your property. Add your website name, URL, business category, and time zone for reporting.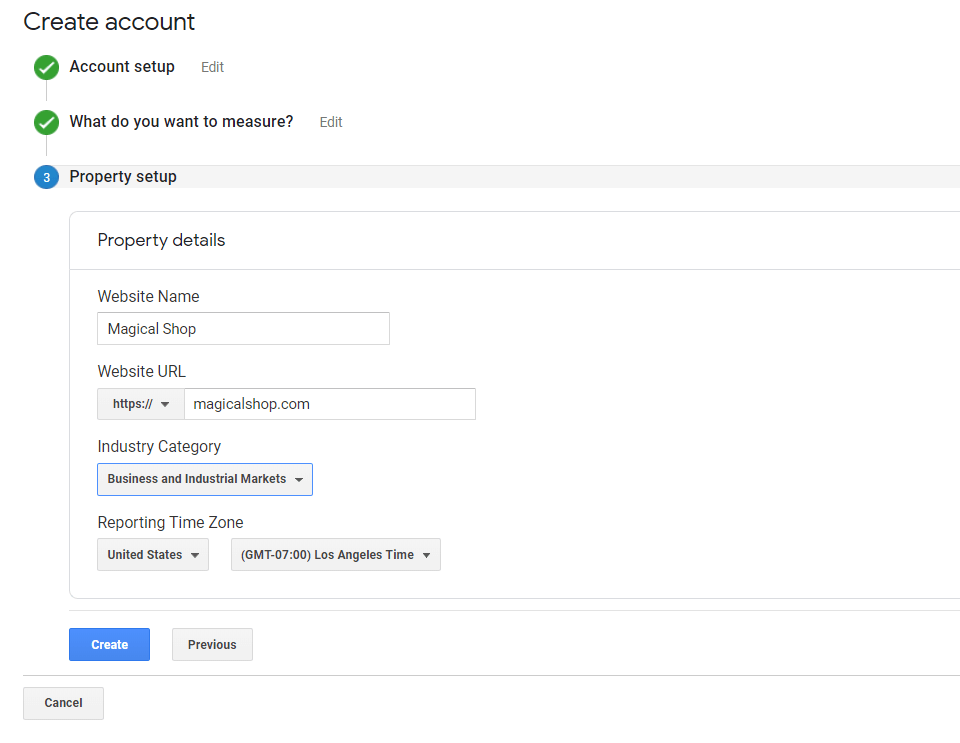 Now, click the Create button. It's time to accept the Terms of Services. Tick the two boxes for two terms – one on the top and the other on the bottom. Then, click I Accept.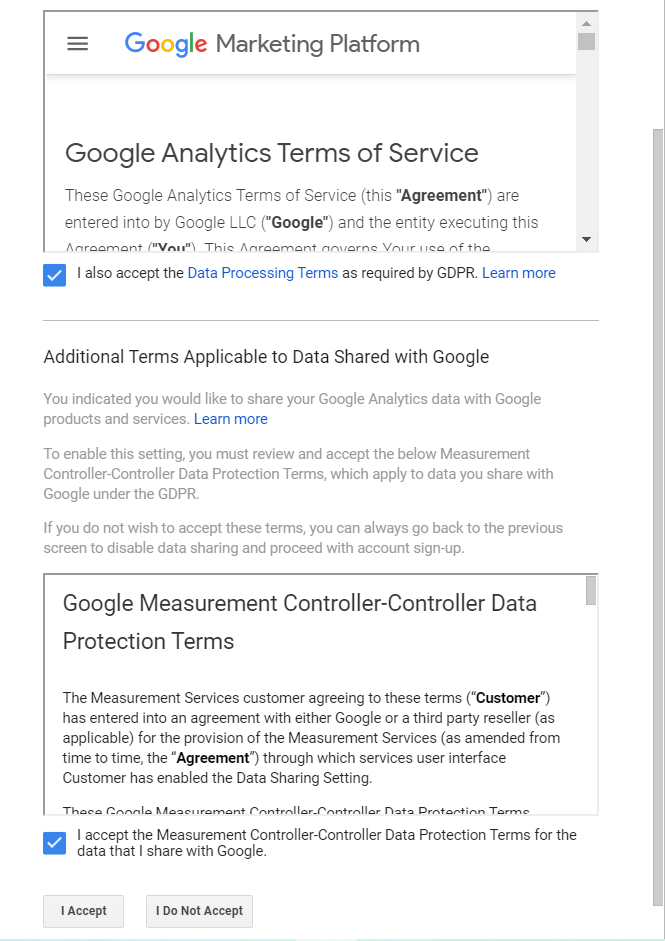 Now, Google will show you an email signup option. You can check or uncheck for all the services they offer and click Save.
Step 6 – Tracking code
Here, you'll be given a tracking ID that needs to be placed on all the pages you want to track. For WordPress, you can copy the code and paste it on the index page inside the HEAD tag. There are other methods available, and it's easy to select any of them.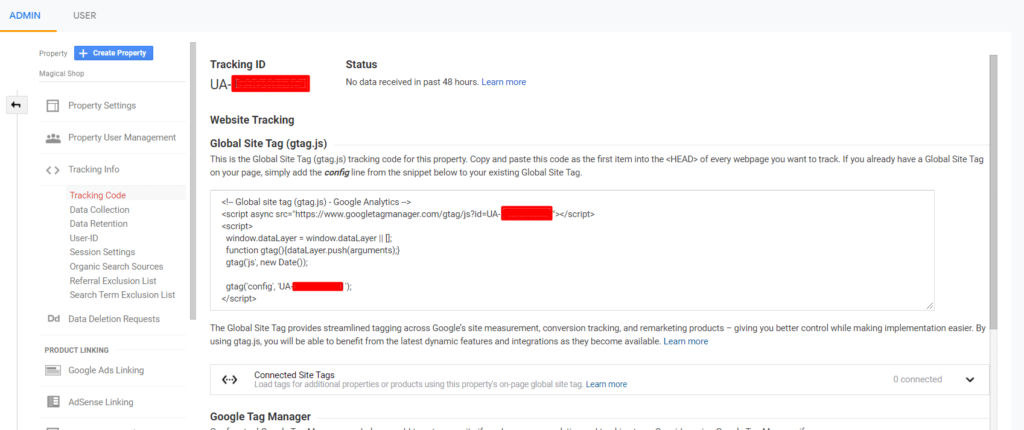 How to install Google Analytics with MonsterInsights
Go to Plugins inside your dashboard and go to Add New. Search for MonsterInsights, and it will appear before you. Click install, and after installing, click Activate.
The installation wizard will now come on to your screen, where you have to click the Launch the Wizard! button.
You'll be taken to the next page where it will ask you to provide some basic information. Choose a category from three that depicts your business right: business, blog, or eCommerce. Click Save and Continue after selecting your preferred option.
Now, it needs you to connect MonsterInsights to your website. To make that happen, click Connect MonsterInsights.
It will take you to Google Sign in page where you have to sign in to your Google account. If you don't see the right account, you can click Use another account. Either way, you have to log in to the correct account associated with Google Analytics.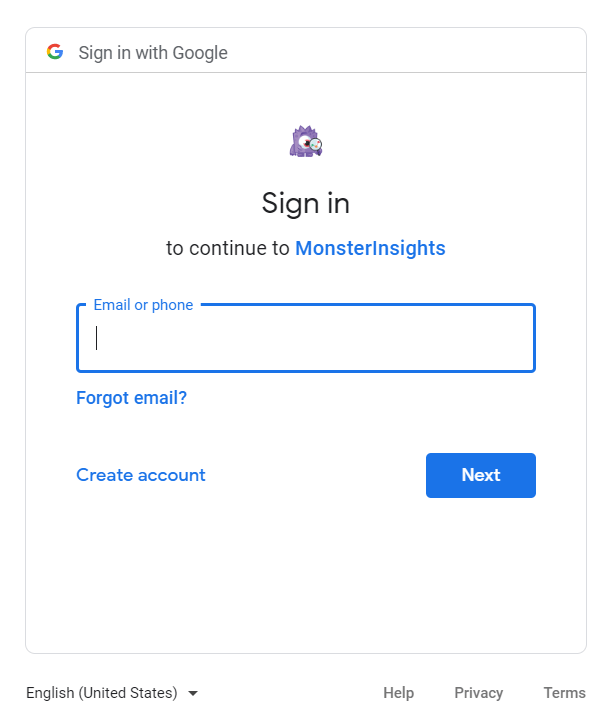 You need to click Allow to approbate MonsterInsights to edit and manage your Google Analytics.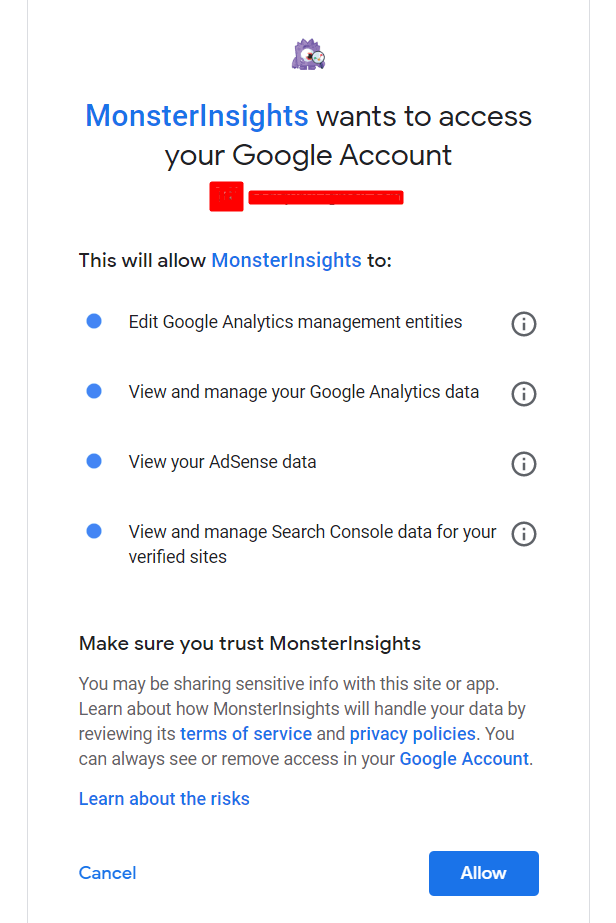 It's time to select the profile that MonsterInsights will track. Click the Complete Connection button after selection.
Now the setting page will appear where you decide on many different options. Events tracking, file download tracking, user roles, and a few more. The critical one may be Affiliate Link Tracking if you use personalized affiliate links and want to track them. FYI, the default setting works fine for most websites, so you can leave it as it is.
Click Save and continue.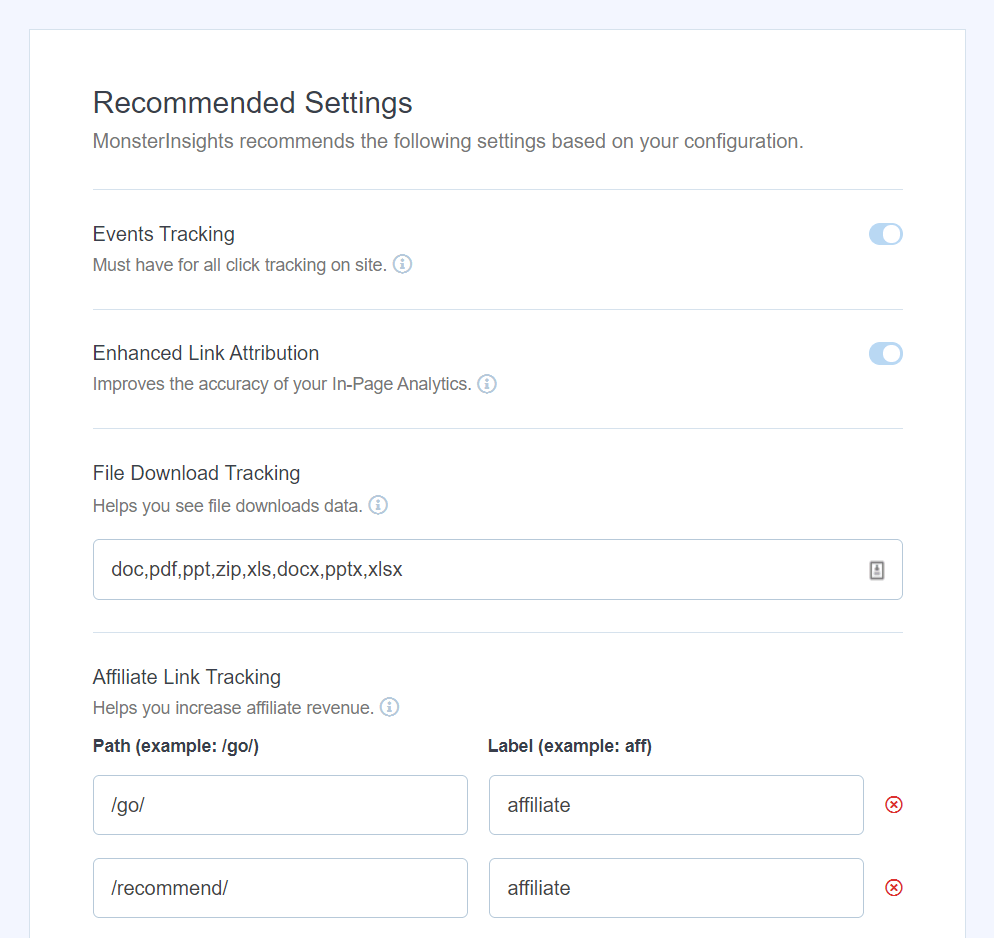 MonsterInsights has some addons to extend your freedom and efficiency. So you can upgrade to pro or click Save and continue button to proceed to the next.
On the next page, MonsterInsights displays an ad for WPForms, which is one of the best WordPress form builders. You can install the free version or skip the step.
Well, you're done with Google Analytics setup. Click the final button that says Finish Setup & Exit Wizard. A small reminder for you: don't get panicked if you don't see the stats instantly. It takes a few hours to populate the data from Google Analytics to WordPress.
Whenever you want to see the reports, you can click Insights from the left sidebar of your WordPress dashboard.
Watch the video tutorial made by WPBeginner.
Final remarks
Now you know why Google Analytics is significant for business growth and how you can get started. I hope you also understand there are too many technicalities, and MonsterInsights makes it simple.
Take action, and install the Analytics now by following the steps explained above. You won't find a painless way to install Google Analytics and connect with your WordPress sites like MonsterInsights offers.
I suggest you visit the report every day from your WordPress dashboard. Keep your eyes open, and fix it immediately if you see anything unusual.