6 Best WordPress Form Builders Compared
While talking about the best WordPress form builders, it's not easy to find the right option.
From tons of choices, beginners often get overwhelmed, and every form plugin seems a good fit.
In this post, I will discuss those WordPress form plugins that offer maximum features and value for your money.
There's a significant shift in this industry, and that's the reason you can't opt-out of a tool that can only help you build forms.
Read this post to understand what more a form builder can offer besides creating forms.
Best WordPress form builders in details
I have been in the industry for years and saw the rise and fall of many brands. Here, I want to present to you the tools that I know better or used in my projects.
WPForms
WPForms is the best choice without any doubt. The 4+ million active installations on wp.org are the most precious certificate, I think.
Why is this form builder so popular?
Well, the community of online entrepreneurs is growing, and most of them are coming from non-IT backgrounds.
That's why they look for options where they can operate without asking anybody's help like they do with mobile phones.
WPForms has a pretty straight learning curve. Anyone with basic internet knowledge can build forms in minutes.
The drag and drop builder and user-friendly layout makes a tough job really easy and meaningful.
And, if you get stuck at some point, you'll find many blogs and YouTube videos besides their documentation and friendly customer support.
Let's have a look at some key benefits:
Beginner-friendly interface with drag and drop builder
A collection of pre-made form templates
AJAX-based forms so no reloading
Geolocation for getting location-specific information
Create surveys and polls
Multi-page forms for a better UX
Email campaigns with many CRM integrations
Show or hide fields by enabling conditional logic
As I have already mentioned, WPForms has a free version that you can use to create basic forms.
You will get limited form fields along with email notification and confirmation setting.
If you want to get the most out of this excellent form builder, you have to buy the premium version.
User registration, order form, file upload, surveys, payment – a lot more advanced options are available with the pro pack.
Formidable Forms
Formidable Forms is a great contender among other WordPress form builders because of its top-notch features.
It has a free version to get started until you require advanced functionalities.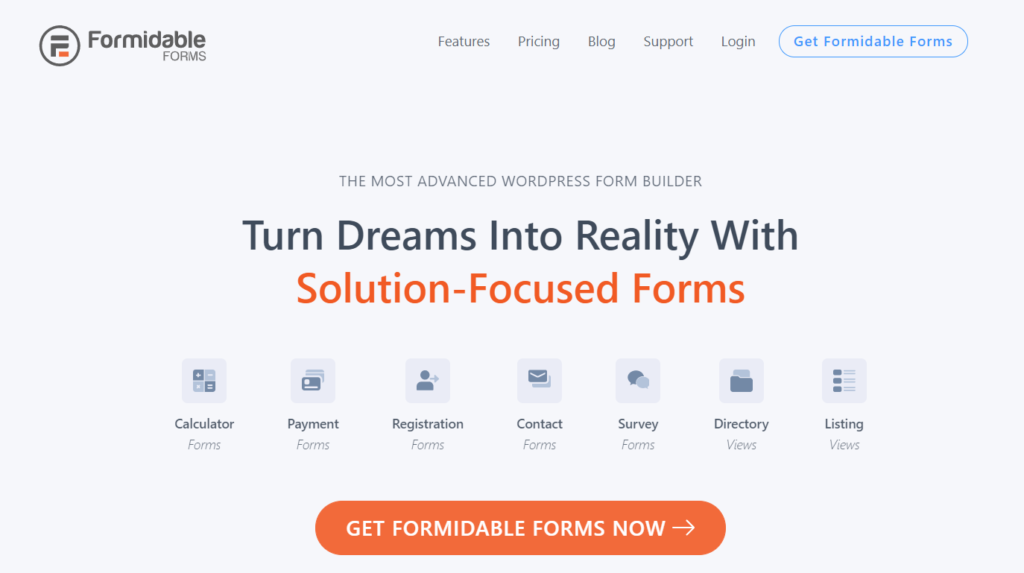 The number of active installations for this fantastic tool is growing, and it really comes up with a great solution for creating web forms.
Without being worried, anybody can use the plugin and create beautiful forms by using its sophisticated layout.
Features to look out:
Drag and drop form builder
Visual styling opportunities
Many add-ons for expanding the power
Ready to integrated form templates
Repeater fields to duplicate a similar field
There's not a lot to learn with Formidable Forms. If you want to begin, you can begin now.
While user-friendliness is the first concern, it's no surprise that Formidable Forms comes up with a brilliant drag and drop solution.
In many situations, you may want to work out a little bit to customize your form and make it look as you want.
Well, Formidable Forms allows users to style their forms with visual editing options.
I think the massive collection of add-ons make this form builder a lucrative one, and installing them is a piece of cake.
Also, a wide range of form templates helps users create their forms quickly and effortlessly.
Many premium features of Formidable Forms are available free in other form plugins. So, yes. Sometimes their pricing is unreasonable. Other than that, it's an amazing form building tool to choose for your online business.
Fluent Forms
Fluent Forms is one of the few form builders that came later and got rewarded with loads of kudos.
The best for being so popular is what it offers with the free version.
I mean, this form building tool has a premium version where you can get cutting edge features.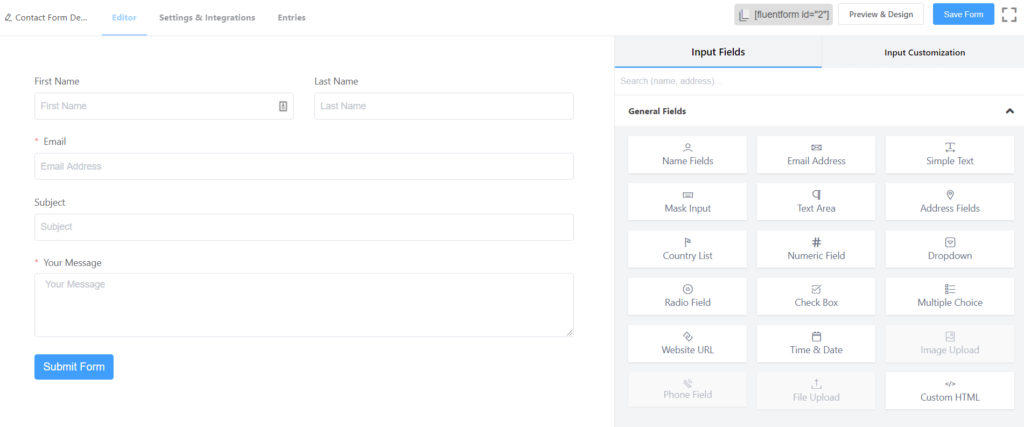 But the free version has some exciting options, which many form plugins include in their premium packages.
However, the uncomplicated layout, bundle of input fields, and plenty of integrations make this builder one of its kind.
Here you find some outstanding features that make this form builder tool a brilliant one:
Maximum number of form fields
Conditional logic and form restriction
Form templates [25+ in the free]
Advanced spam protection technology
Form confirmation message
Advanced post creation
Form landing page
File and image upload
Signature and PDF add-on
Beginners find peace with Fluent Forms because of the easy layout and lego-like form fields.
In a multi-column form layout, you can apply conditional logic and six-column containers to make your forms user-friendly.
For donation and collecting payments, Fluent Forms comes with built-in PayPal and Stripe add-ons.
Besides reCAPTCHA and Akismet, this form builder also gives you prevent blank submission and honeypot facility to protect your forms from spam attacks.
Data analysis can be a great eye-opener for your business. Fluent Forms' graphical presentation makes the form entries more understandable and helps you make an informed decision.
You can even download the submitted entries via CSV, Excel, and some other formats. Fluent PDF also allows you to generate PDF for the submissions.
Gravity Forms
Gravity Forms has been ruling in the WordPress industry for a long time, and it's mostly famous for its ecosystem.
I should first mention that Gravity doesn't offer a free version like other WordPress form plugins.
Their basic package is affordable, though.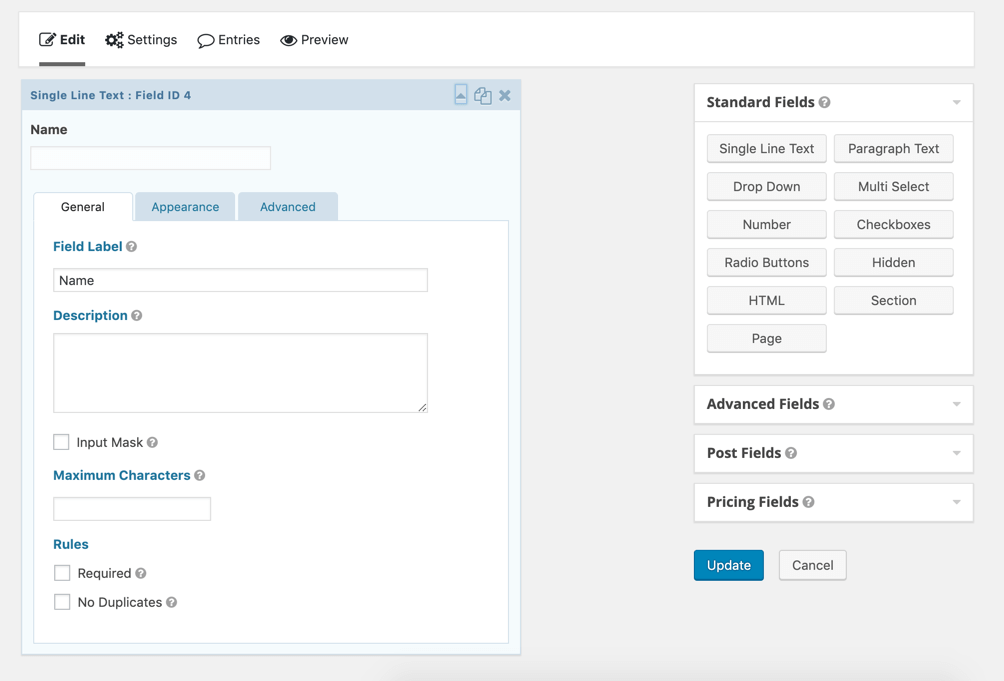 As I said, it's a brilliant form building tool and comes up with superb solutions for every user level.
Let's check out what best it offers:
Easy to use form builder
Ready form fields
File uploads with form submissions
Ecosystem for quiz, PDF, data analysis, etc.
Automated email confirmation
Multiple options for payment
On top of the intuitive form builder, you can mix up with ready input fields to make a form as quick as possible.
The struggle for creating a simple and user-friendly form is real. That's why you should try the conditional logic of Gravity Forms and hide the fields wherever unnecessary.
Whenever users submit a form, they can instantly get notified with the auto-responder option.
If you want to allow your users to upload files with the forms, you can do that with Gravity.
In terms of creating forms without having any complications, Gravity Forms is a trusted name.
There's one critique that bothers me all the time. They have huge discrimination throughout the pricing plan.
Some of their pro features are even found free in other plugins.
Ninja Forms
Ninja Forms is a powerful WordPress form builder with a myriad of positive reviews received from the WordPress community.
The beginner-friendly solution can turn your mediocre experience into a remarkable one.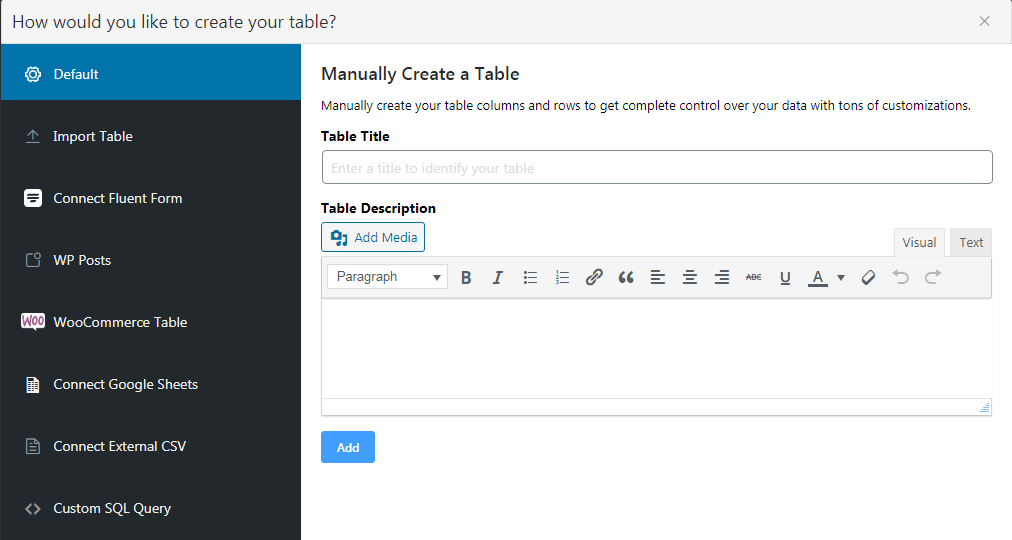 From creating a simple contact form to collect prospective leads, Ninja Forms has everything ready to pick.
Most interestingly, it has a free version, which is available on wp.org. To unlock advanced functionalities, you can use the premium options and attain the ultimate happiness.
Why Ninja Forms? Take a look at some of its exciting features:
No coding experience required
Conditional logic available
Export form submissions in many formats
Collect payments and donations
Ample of third party integrations
Before going any further, I'd like to mention how user-friendly this form plugin is.
Without having a coding background, anyone can build the perfect form they need for their online business.
What other form builders offer, Ninja Forms has a similar solution to that. That said, you can use conditional logic, spam protection, multi-step forms, and more.
If you want to export the submitted data in various formats, Ninja Forms can be a great help with that. Excel, Google Sheets – it has multiple opportunities to play with.
Want to allow users to pay via WordPress forms? Yes, that's also possible with multiple payment solutions.
Furthermore, a big box of third party applications can enhance your form building experience by extending its strength.
Finally, there is an acrimonious criticism of the pricing model of Ninja Forms.
They seem to charge a little low initially because you have to pay what you choose. For clarity, it has different types of packages.
What's disturbing is they sell many basic features as individual add-ons. When you're going to add those to your cart, suddenly the price jumps from low to very high.
Contact Form 7
Once upon a time, it's hard to imagine a good-quality WordPress theme without integrating Contact Form 7.
It's a legendary WordPress form, now serving the resting moments.
Keep in mind that it's being a legend for a reason and still has some punches inside it.
One of the big reasons that made this plugin a memorable one is because it was free from day one, and still, it remains the same.
The form builders industry advanced far with putting many additional functions besides serving for making contact forms.
That's where Contact Forms 7 falls behind. It didn't update itself by caring what current trends demand.
However, I have to mention this plugin in this list because still many people find this plugin useful to create forms on their WordPress sites.
What makes Contact Forms 7 still an appealing one:
It's free without having any premium option
Many add-ons available to expand the functionalities
Akismet spam-filtering option
Support from a large community
Best for basic usage
I must admit, the learning curve is a little steep with Contact Form 7. Other than that, it offers simple customization, spam protection, connecting third-party applications, and so on.
For creating a simple contact form, this plugin is enough. For advanced options like payments, you have to depend on third-party add-ons that were made for Contact Form 7.
Talking about the add-ons, there are plenty of add-ons built for Contact Form 7, and you can get one almost for any needs.
Akismet, a spam-filtering tool, is available on its core, so it safeguards your form even though it's a simple form builder.
Unlike other form building tools, Contact Forms 7 doesn't have a dedicated support team to rescue you when got stuck.
Here comes the unique part. The tremendous popularity influenced in cultivating a community around this plugin.
You'll find many blog posts, videos, and forums where you can discuss your form-related problems and get the solutions.
Wrapping up
As I wanted to show you the best WordPress form builders, I should pick one to help you decide right.
Now that you know about the top form plugins, there are haves and have-nots among them.
If a plugin appears terrific on the features, it gets low on the pricing. And it keeps happening vice versa.
Considering all the free options, advanced functionalities, and pricing, WPForms is the best WordPress form builder.
Input fields, ready templates, advanced settings, add-ons – WPForms is here to shape the path for your success.