Save Your Time with the Best WordPress Form Plugins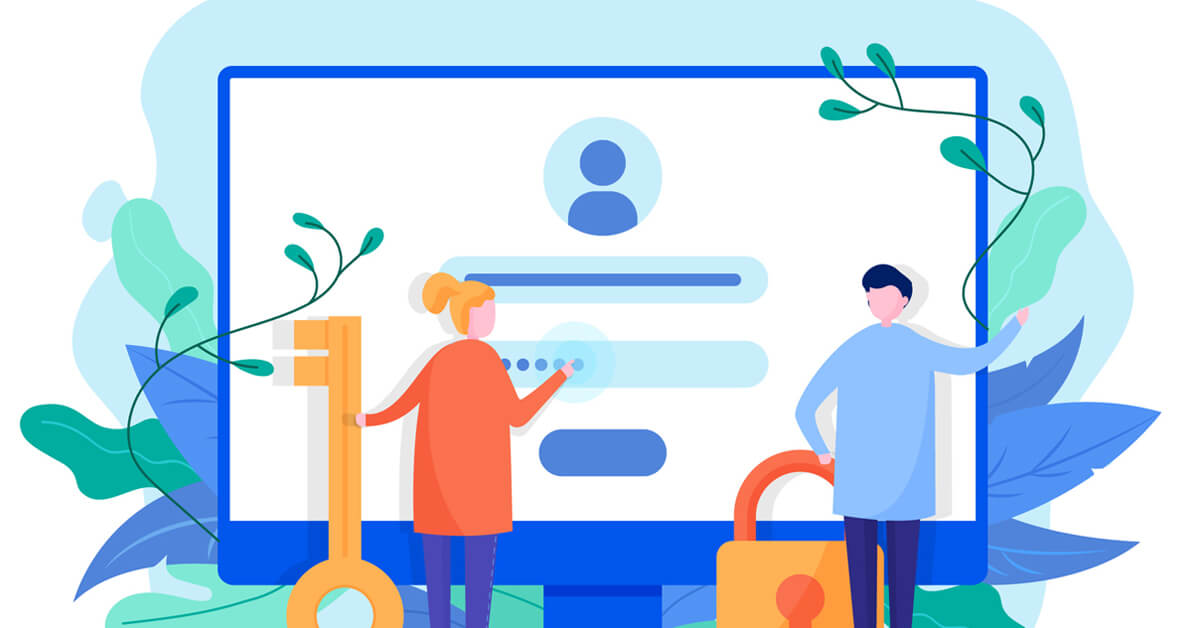 Looking for a WordPress form builder?
Here I'm with the best WordPress form plugins. If you are looking for a fantastic solution to form building, hold tight.
Contact forms have crossed a long way and underwent a massive evolution. Now, it serves more purposes than just a communication tool thanks to the WordPress community. You can collect payments, run surveys, take online exams, and more.
Amazingly, the dependency on WordPress form builders is getting high severely. Now, you can manage booking, event registration, and post creation via a form plugin. Before going further, the tools listed below can give you an unprecedented experience.
Instead of making a bigger list of 20 WordPress plugins, I have mentioned only five so that users can easily find the right tool. In my belief, one of these plugins can answer your necessity. Well, some of them even offer a free version, although my focus was only on the quality.
I hope you'll have a great reading experience besides finding what you're looking form
Best WordPress Form Plugins
I have already mentioned that some of the plugins have free versions too. If your business is on the hatchling level, you might prefer the lite versions. That's okay for the right start. Nevertheless, I was looking for options that can be a one-stop solution for multiple necessities. That's where the top five came in.
WP Fluent Forms
Gravity Forms
Ninja Forms
WP Forms
Formidable Forms
In the best WordPress form plugins, WP Fluent Forms is the most mesmerizing in many aspects. This is a new inclusion in the market, compared to other contenders. But, the continuous improvement, top-notch features, and a reasonably low price – it certainly got my attention.
Even on the free version, which is available on the WordPress directory, this brilliant tool offers many features that you can't find in many premium plugins. However, if you get the premium pack, more enticing features will be unlocked for your convenience.
Let's talk about the ease of use, and guess what? Fluent Forms is the most user-friendly WordPress form builder with all the arrangements for the user's satisfaction. For instance, 60+ prebuilt templates will reduce a significant burden from your head.
The more you'll play with it, the more exciting things you can discover. It has dozens of third-party integrations I'm not going to mention here. Moreover, it supports Stripe and PayPal for collecting payments. And, advanced post creation along with user registration are other notable features.
What does it cost?
For $59, you can avail a single site license, and for $129, a license for 5 sites – both for one year. Lastly, the lifetime license with $799 will allow you unlimited websites.
Gravity Forms is the most innovative member of the best WordPress plugins. From visual editor to readily usable form fields, the adventure with Gravity will give you an unforgettable experience. It has a myriad of add-ons which you can purchase based on your needs.
Likewise, you can apply the conditional logic to exercise some rules so that some options can be kept hidden or open. Email auto-responders will keep you updated right when someone submitted a form. I also loved the save and continue opportunity that encourages users to come back later to finish it.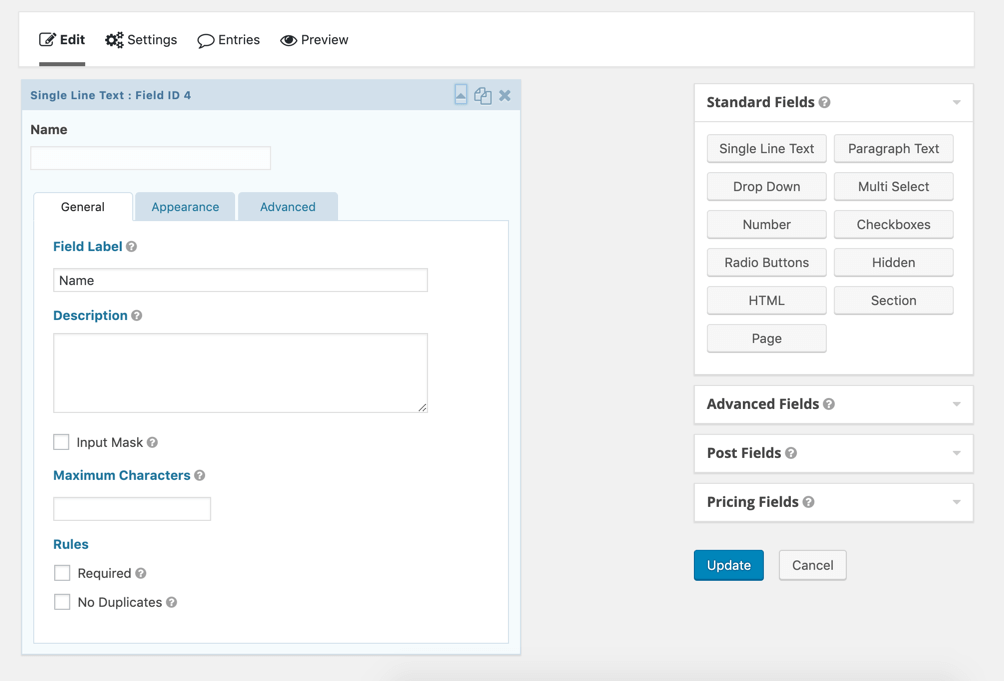 Correspondingly, the advanced calculation fields are capable of performing maths based on the submitted value. Post creation and scheduling form options can save you some time. Further, users can upload files and images via the file upload facility.
There's a severe negative side of Gravity Forms that keeps disturbing in my mind. They create discrimination among their users based on the price selection. For instance, if you pay $59, not only you can use it only one site, but you can't get access to the pro features. And pro users can't use elite features, such as user registration, Stripe, and advanced post creation
What does it cost?
Gravity Forms has three options with annual payment. You can use it for one website with $59 and three sites at $159. The elite license will allow you to use it for unlimited websites at $259.
Ninja Forms is a forerunner among WordPress form builders. You can create enchanting forms in munites without being a coding expert. With its beginner-friendly setting, anyone can configure the right style for the right purpose without banging their heads.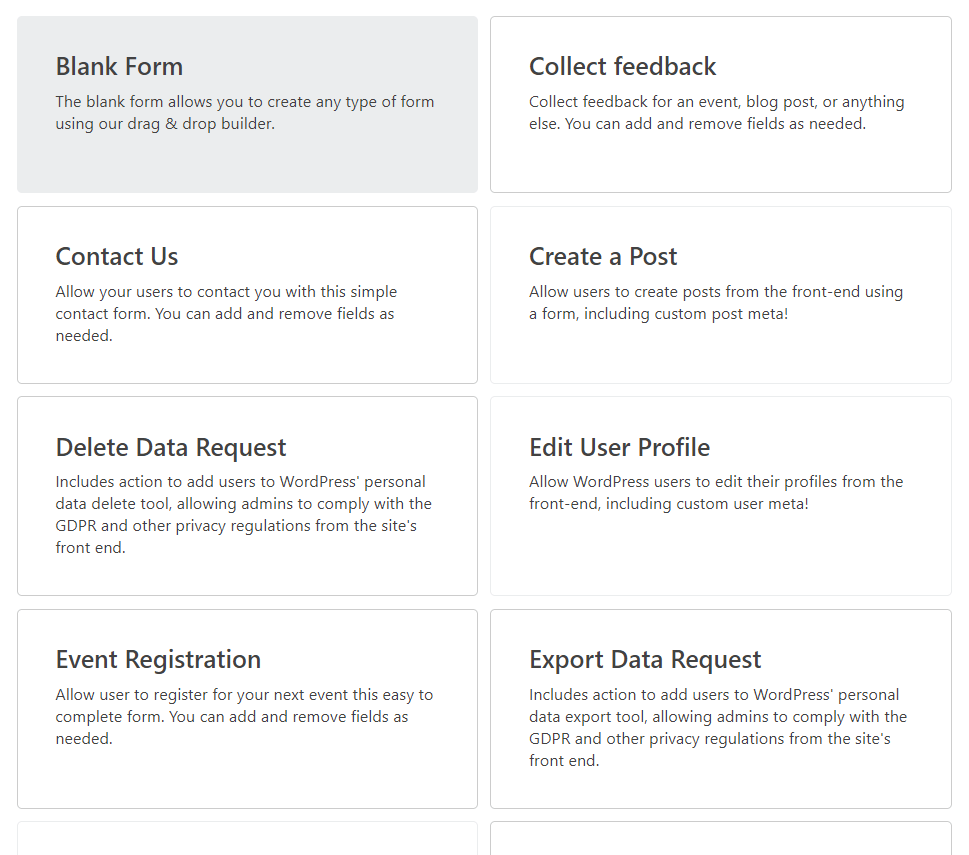 If you're using Ninja Forms for the first time, trust me, you'll start thinking "wow, form building is that easy!!!" They took the drag and drop experience to a new level where you only have to click on an input field, and it will be placed in your form.
The layout and column settings are so comfortable that you don't need to see what's written on the documentation. Moreover, the simplified design will not conflict with your website, no matter how sophisticated the design is. Then, there are highly advanced features like uploading files and export files as PDFs or Google Sheets.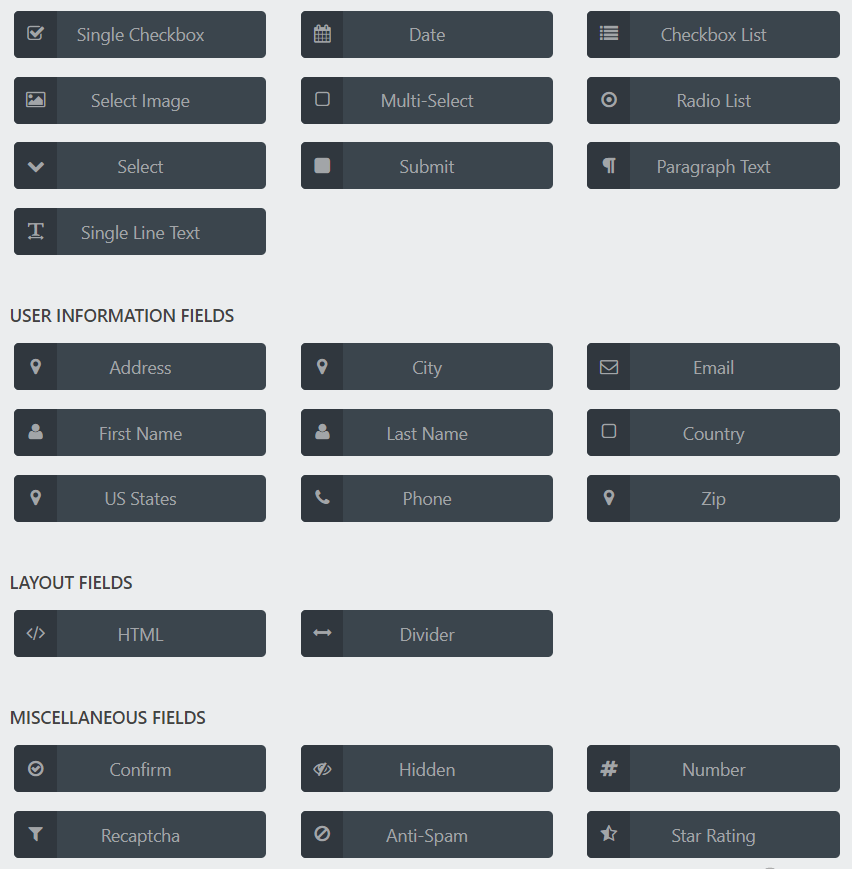 For payments, Ninja Forms can be a freaking good option as it allows your users to pay or donate through a secure payment environment. In today's competitive marketing world, you can catch all the leads with the sign-up opt-in forms offer by Ninja Forms. Integration of the email marketing tools is the cherry on top.
What does it cost?
Ninja Forms has four different pricing options. The personal pack costs $49.50, which supports a single website. Two other pricing options come with $99.50 for 20 sites and $249.50 for unlimited websites. The last option is they call à la carte (which means a custom order in English) that has a price range of $29-$129. On that pricing choice, you can choose only the features you need.
WP Forms is truly a beginner-friendly WordPress form plugin since it helps the users with 100+ templates. I also prefer this template as you can create any type of forms come into your mind. Be it payment or survey forms, registration or donation forms – WP Forms has the right solution.
As I know the vendor, this form came out of a giant company who reads the WordPress users mind correctly. WP Forms, like other plugins, keeps the form building as a genuinely uncomplicated experience. Display your forms across all platforms because they're purely responsive when built with WP Forms.
Make complicated forms in easy steps by applying conditional logic and make more functional. Connect respective people with the instant notification system. Additionally, WP Forms makes entry management more natural and more profitable for your business.
If you're scratching your head by thinking about how to accept payment to your website, WP Forms is the perfect answer. Embedding a form to various places like sidebar or blog post is also a super-easy task. Use their subscription forms to streamline your marketing.
What does it cost?
Every pricing variation of WP Forms has two different versions. I only mentioned what I can see right now (it might be the offer price). All are yearly subscriptions and start from $39 that supports only one site. The second and third pricing are $99.50 and $199.50 and support respectively 3 and 5 sites. Finally, the elite pricing has all features with a limit for websites at $299.50.
To give users a minimal experience in WordPress form building, Formidable Forms has arranged everything in their system. They built it in a way that anyone can craft a useful form for their business without facing any complexity.
"What's missing with this form builder?", you may ask. From rigorous data presentation to advanced calculation – this form has everything in order just to make your day beautiful. Let your users upload files with forms and answer based on the conditions.
What makes Formidable Forms stand out is the visual styler, I think. Making the forms rightly blended with your WordPress website is just a matter of a few clicks. Beyond contact forms, you can reuse the most advanced forms ready for payment and WooCommerce checkout.
A rich collection of powerful add-ons are ready to turn your experience into a prolific one. Another way Formidable Forms makes a difference is the data transformation. You can make the submitted entries as listings and directories or other forms of content.
What does it cost?
The basic cost of the form is $99.38/year with a single site license. The business license allows 15 websites at $199.43/year and finally, the elite option will charge you $399.53/year.
What's next?
Now you wonder, which one to choose? I don't think you have that much time to waste thinking on that meaningless point. Choose any one from the list. I could make a list of 30 best WordPress form plugin, but I restrained myself on 5 only to help you choose the best tool without any hesitation. In terms of features, these five WordPress form builders running tightly. What makes the scenario different here is the pricing structure. That's where you can spend some time as I don't know what your business goal, after all.