6 Best WordPress Table Plugins to Display Your Data
Who needs tables? Well, the simple answer is all. Some of them know, and others don't know. That's the difference. WordPress data tables are not only for just tables. You can do a lot with the tables, particularly presenting your data in a sophisticated manner.
Bloggers need tables to make comparison posts, online vendors need them to create product showcase, and every people using website need an excellent way to exhibit their data. In a nutshell, WordPress tables plugins make it easier to show information clearly.
Best WordPress table plugins
In this post, I'm going to talk about the five best WordPress table plugins. Almost all of them offer a free copy besides the premium package. Without further ado, let's jump into the list.
Visualizer is uniquely developed for generating beautiful charts and graphs, on top of table creation. It will shower you with loads of advanced features. And, customizing mobile-friendly tables and charts from your posts are the tip of the iceberg.
The beauty of this fantastic table building tool is its UI seems very familiar because of the excel-like structure. Editing live and seeing the result instantly makes Visualizer an out-of-the-box inclusion on the list.
Because of the cross-browser compatibility and mobile responsiveness, your tables and charts remain intact on every screen they appear. Want to hear the good news? You don't need to compromise with your design because you can match the tables with your website.
Already have data somewhere else? Let's import from CSV or Google Sheets. Moreover, this amazing kit offers you 15 chart types for engaging presentations. These types are sourced from DataTables, Google Charts, and Chart.js.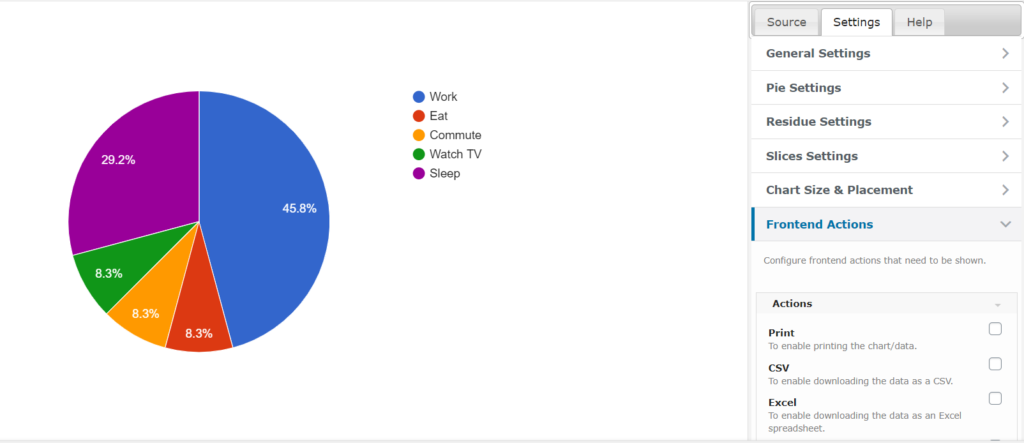 You can also create interactive charts for catching the attraction of new users. Data synchronization can let you connect with CSV, Google Sheets, and your preferred databases.
Based on WordPress information, you can generate charts from number posts and pages to visualize the statistics of your site activities. Not only that, but you can also determine who can view or edit charts by using the permission customization.
How much does it cost?
There are three pricing variations with Visualizer. For single users, they charge $59. If you manage multiple sites then the developer plan will cost $149. For the agency, the big license comes in $299. The last two licenses will give you some additional benefits, like custom permission and periodic data synchronization. These two also include on-page data editing facility.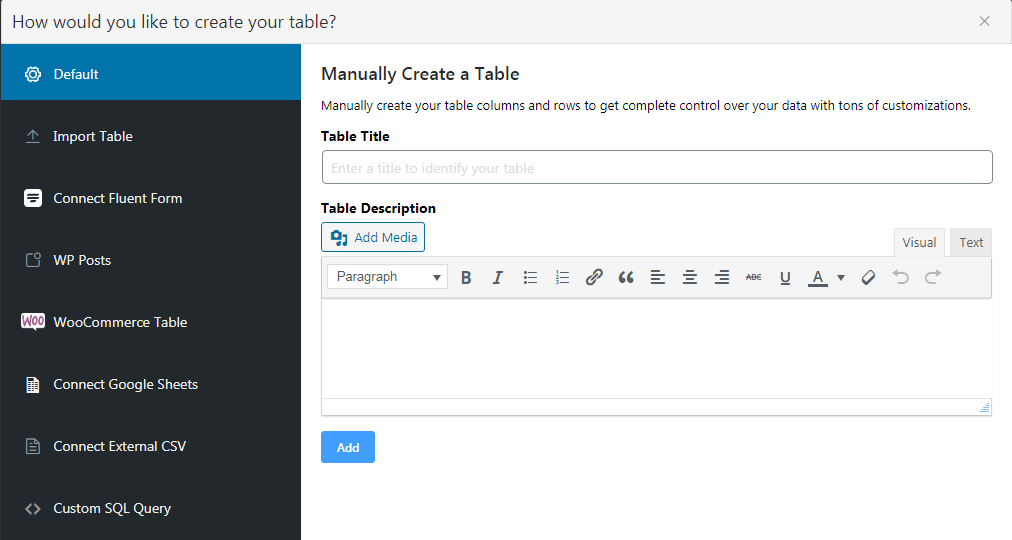 While you're in quest for the right WordPress table plugins, Ninja Tables comes up with all the excellent offerings. Not only this plugin gives the best features compared to other table plugins, but it also costs surprisingly low.
Moreover, creating a mobile responsive table is an uncomplicated task with Ninja Tables. Even if you go with the free option, you can get a lot that many premium table builders can't give you. If you want to create a single line cell, Ninja Tables lets you do that.
Moving over, it has a fixed layout option, which is an impressive feature to keep your table at bay. Currently, it's one of the most popular table builder plugins in the WordPress directory. And, the reason is apparent: you can have many fantastic options to reduce your constraints.
How do you want to customize your table? With bordered layout? Striped rows? Yes, with Ninja Tables, you can do that. What gives me the most comfort is its backend. I couldn't be more excited by seeing the backend mirrors the front-end. Nothing different!
How much does it cost?
It has a free version on WordPress.org. As the premium version can empower you with tons of powerful facilities, I suggest you go for that. The single site license costs you only $49. The other options are agency license for 20 websites with $99, and a lifetime license costs you $399.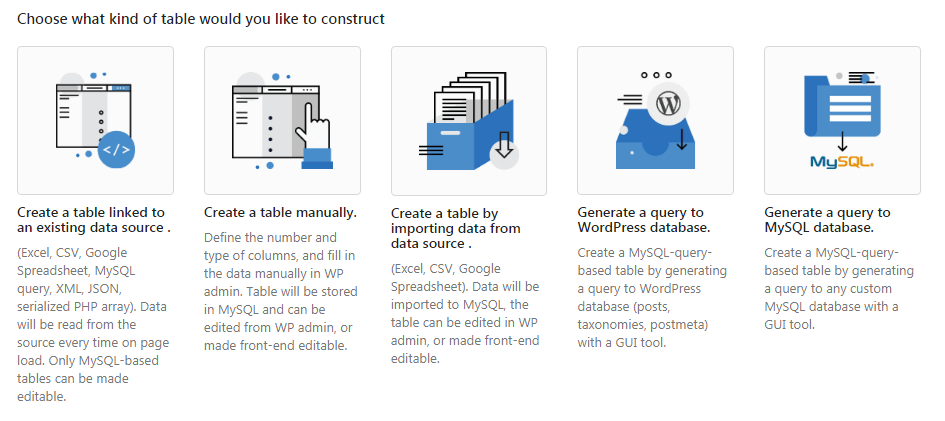 wpDataTables is another big name in WordPress table plugins. It can help you import your data from different places to your website. The variance in the source includes Google sheets along with CSV, JSON, and more. Creating tables in minutes also an easy job without watching any tutorial.
The possibilities are endless with this WordPress table editor. For instance, you can enable sorting opportunities and pagination with the big tables. Many people are comfortable with the calculations in spreadsheets. Well, wpDataTables gives your comfort back so that you can calculate directly into the tables.
Many cutting-edge features of this mobile responsive table can help your ventures grow. Enable email and SMS notification to get notified instantly. A table can be edited on the front-end. Furthermore, data can be displayed on various charts. Beyond all that, you can extend the power of a table with the wpDataTables Addons.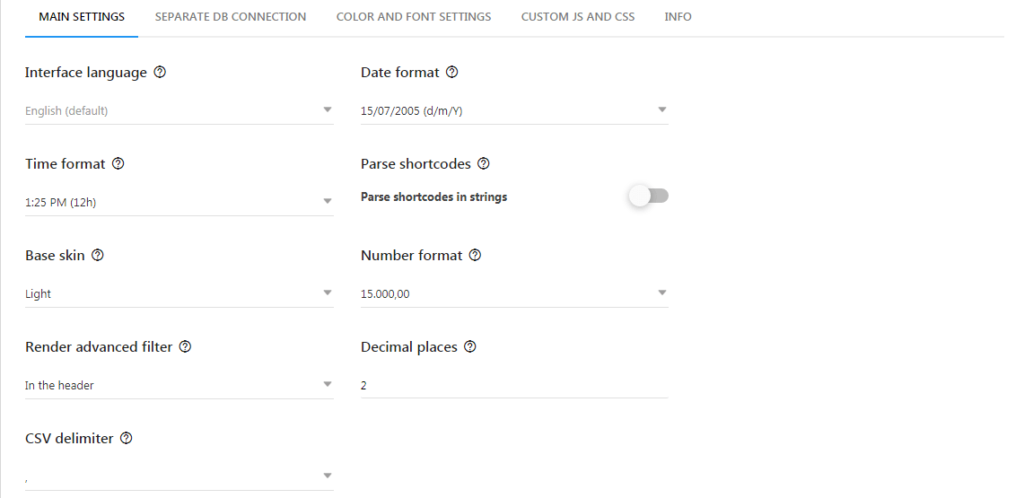 What not all the tables can offer wpDataTables seems pretty forward at some points. By adding conditional formatting and filtering, you can make your table more robust and more lively. Inline table editing and excel-like operations are some other valuable features to mention.
I'm warning you for getting surprised by seeing the column types. String columns, float columns, image columns, URL link columns – I can't mention all here. It's just amazing! Besides creating a table manually, you can go for other options: maybe using queries for database or importing data from Google Sheets.
How much does it cost?
A free version with basic features is available on the WP directory. To unlock advanced features, you have to buy the premium version. You can purchase it with $59/per year from their site for a single license. Other annual options are $109 and $249 for three domains and unlimited domains. The licensing goes with the same structure but different costs for a lifetime at $189, $389, and $589.
If you're looking for a cheap WordPress table plugin, then League Table could be your best choice. But it's one of the best table plugins not for the price but for modern, user-centric features, too. From column sorting to filtering options, the capabilities are enormous.
League Table also allows you to carry your data without any shortcomings. You can easily export and import data to build a quick table with your current information. It supports WordPress multisite, which can be a super benefit for expert users.
Unlike other table plugins, it contains a spreadsheet editor that makes the data importing easier. From the spreadsheet to the WordPress table, the data transfer is excellent. In League Table, you'll get astounded by knowing the number of options it offers for tables and cells.
You can customize the whole table with your preference. Colors, fonts, table width – you can organize the way you want. For advanced calculation, apply mathematical formula. For including design with your imagination, add custom HTML.
How much does it cost
League Table is available on Codecanyon with a sweet price of $23.

TablePress is the most popular WordPress table plugins with an insane number of active installations and tons of positive ratings. The all-time free of charge also makes this plugin a lovely one. TablePress generated a revolution in the industry, and you can be part of it.
Because it's utterly free, it doesn't mean to be low in quality. At least, a bucket of advanced customizing options coupled with custom CSS and other enchanting features explain the real picture.
You can quickly export and import tables without any hassle in different formats. Next, rearranging the data is an effortless task as you can use drag and drop facility. Insert links and images to your table if necessary.
Customizing the tables is super flexible with this WordPress table editor. Select rows and columns, and you can show or hide them. In the same way, you can duplicate, insert, and delete as per your necessity.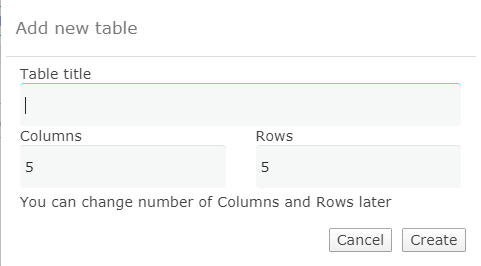 Supsystic brings an epoch-making solution for creating tables on your website. Using this free WordPress table plugin, you can design visually stunning tables for your blogs and business. If you have only basic needs, you can go for the basic version.
For more advanced features, you need to upgrade to the pro version. Exporting to different formats on the front-end is available there. For migrating countless tables, you will get a special tool along with additional options.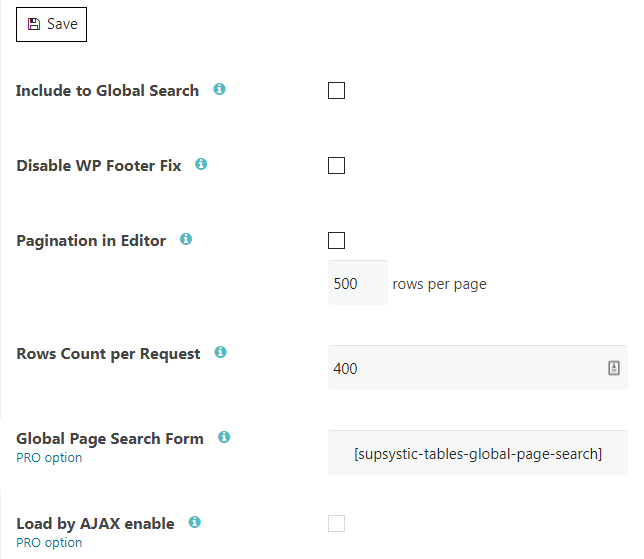 A print button will allow you to print your data, and you can see the table history alongside other exquisite benefits. Want to hear more? The diagrams and restricting roles are some other useful solutions. Forgot to mention that you can enjoy complete freedom over the table structure and color scheme.
Get help from the visual editor and format text and add images or links. Additionally, conditional logic and collapsible rows are some wonderful incorporations that can help you create more control. Building a table in WordPress or an external database is simple with the source feature.
How much does it cost?
For a single site license, you have to pay $39. With $69, you can enjoy five sites and with $149, unlimited websites.
Bottom line
WordPress users are lucky because they have a fantastic collection of table building solutions where most of these tools are free. Every WordPress table plugin comes with unique features that will make your life easy and enjoyable.
Choose the best one from the above selections and display your data for engaging visitors with a great impression.