WordPress Event Calendar Plugins for Easy Scheduling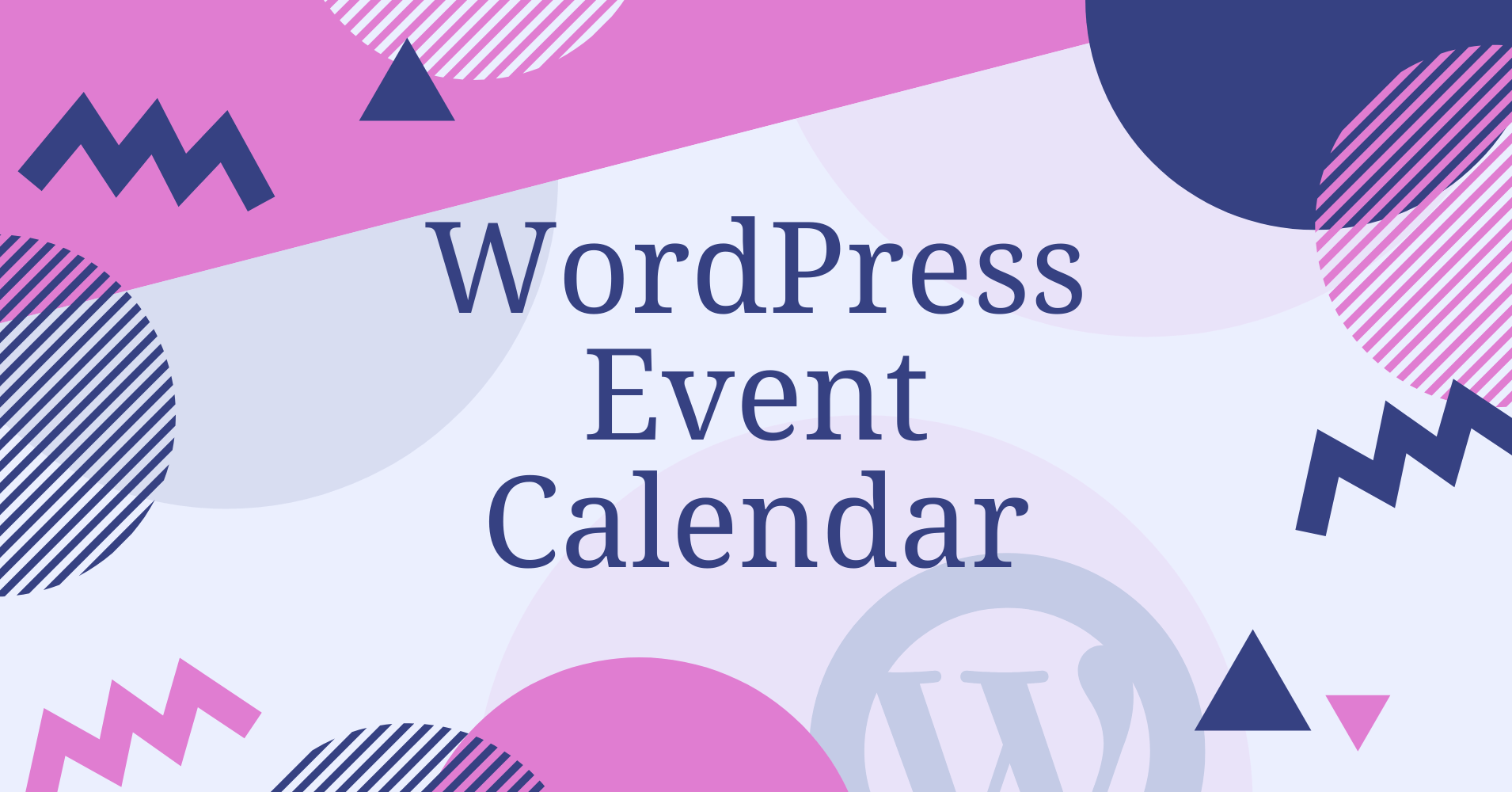 With our busy schedule, it sometimes gets challenging to manage every appointment and occasion. A WordPress buff might end up missing to announce an upcoming event, showcase live events, or manage bookings. So, every website needs WordPress event calendar plugins to schedule and put things in order.
There was a time when we used to keep a calendar on our desks or hang on the walls. However, the digitized WordPress world has left us low chances to look up from the blue screen!
Now, we need a WP event manager tool to share event dates or give out registration details on our WordPress websites. How do you think that happens?
By simply infusing a calendar plugin to your WordPress, you can make sure your audience gets all the information regarding your site.
Top 9 WordPress Event Calendar Plugins
To manage events, bookings, registrations, and lots of other stuff, you can either go for free plugins or the premium ones.
Free calendar tools are mostly for sharing dates and news about your upcoming event. The calendar format organizes the details efficiently. On the other hand, for managing registration, booking, tickets, integrations, and other complex needs, you should get a premium and modern event calendar.
Here we have a list of WordPress event calendar plugins, all carefully analyzed.
EventOn
Modern Events Calendar
Calendarize it!
Stachethemes Event Calendar
Event Calendar by 10 Web
Timetable Schedule
WP Pro Event Calendar
Events Schedule
Event Plus
Pretty sure you'll find the best WordPress calendar plugin suitable for your site among these.
A beautifully designed and attractive event calendar for WordPress doesn't have to be something heavyweight! For example, the EventON plugin is a perfect fit for all your virtual events because it keeps everything in order.
This tool also ensures clutter-free and organized event management and has a smart design.
Key features
We sift the feature stack for some of the core ones.
Bright and brilliant colorful experience with a shortcode.
Cost-effective virtual event hosting.
Easy usability and customizable.
Integrate Google Maps.
Event search and filter.
Create and manage events of long duration.
Thumbnail and images.
Quick event info, location, and direction.
Social share and user interaction.
Recurring events on customized schedules.
Create unlimited events, display on tiles or bubbles, and organize according to date. More features come packed in the EventON premium.
Here's the second-best from our curation, and it's a premium plugin for calendars in WordPress. As a result, it accepts bookings and tickets from visitors.
Whatever support you need from a calendar widget, Modern Events Calendar is the most affordable one. It has a modern and exciting design and also seamlessly fits in with all WordPress sites.
Key features
Note some of the best facilities this plugin offers.
Easy event setup and flexible UI.
Over 50 layouts.
Event booking, ticketing, and invoice.
Current event transfer or migration.
Front-end submission.
Adjustable appearance.
Multiple payment gateways.
Highly responsive and mobile-friendly.
Third-party integration (Facebook, WooCommerce, WPML, PayPal, Google Calendar, etc).
Restaurants, churches, meetings, small businesses, and non-profit organizations trust this plugin to create and manage an interactive calendar.
No need to buy extra addons because it comes with everything you need. It's an extensive premium plugin with handy features and easy-to-use facilities.
You don't have to access WPBakery Page Builder (Visual Composer) because templates are customizable in Calendarize it! Event organizing and managing will be much easier with this one.
Key features
This plugin is flexible and rich with features. Note the top ones.
Multiple elements to help with building new templates.
Optimized for Gutenberg block editor.
Visual CSS editor.
Free and paid addons.
Smart pre-built designs.
Single, multiple, and recurring events.
Colour scheme and custom taxonomy for events.
Countdown timer, year-view, and importer tool.
Eventbrite integration for payment, advertisement, and ticket selling.
If you want a well-rounded and user-friendly calendar widget, go for Calendarize it!
An impressive appearance and modern upgrades make Stachethemes Event Calendar worthy of getting in our top-list. It's a unique approach to the classic concept of the event calendar. It further ensures easy navigation and responsiveness for users.

Stachethemes Event Calendar is relatively new. Still, it's gaining on all others! Create and showcase detailed events seamlessly with this one.
Key features
Here are some unparalleled features of this reliable event plugin.
Link and social sharing button.
Sell directly from the event with WooCommerce integration.
Drag & drop.
Front-end event submission.
Booking support.
Import-export and sync.
Six different views and responsiveness.
Multisite ready.
Customizable colors and fonts.
This tool updates automatically to the newest version with one click. Similarly, the updates bring brand new and innovative features! The sheer volume of features doesn't weigh it down.
Looking for a powerful and exceptional plugin with no worries of missing events? Try the Event Calendar by 10 Web. It's flexible and lightweight to make sure users can create single, multiple, or schedule recurring events.
Basically, this tool comes packed with lots of friendly features for every event needs!
Key features
Notice some of its distinct features here.
Social sharing by visitors.
Calendar widget.
Unlimited events and calendars.
Detailed event description.
Viewing options, themes, and customization.
Highly responsive and configurable.
Event categories and tags.
Auto-manage recurring events.
Google Maps integration.
Moreover, it has some unavoidable event extensions- Tickets, front-end management, countdown timer, subscribe, Facebook and Google Calendar integration, etc.
An all-rounder with a truckload of features and flexibility- might sound too good to be true. Although, Timetable Responsive Schedule For WordPress will make you believe it!
It's a scheduling plugin to give you a timetable view of your events. Daily plans and appointments will be sorted out within minutes because of this tool.
Key features
The core and extended features are-
Easy booking functionality and online reservations.
Fully responsive and customizable.
PDF generator, event shortcodes, and custom posts.
A scrollable list of upcoming events.
Custom event color and URL.
Grouping of co-occurring events.
Build and edit with a shortcode.
Visual composer.
Use this plugin to manage everyday timetables, including schools, gym classes, meal plans, restaurants, and pubs, etc.
Standing out among all the other feature-rich plugins, this one seems to have something more to offer. WordPress Pro Event Calendar has one or two unique abilities that set it apart. Likewise, it's also quite traditional.
Add a professional and aesthetic vibe to your posts or pages with this calendar tool.
Key features
Find out the feature that intrigues you more than others.
Import events from Facebook and ICS feed.
100% responsive.
Event submission, subscription, and booking from front-end.
Custom CSS and shortcode generator.
Add special dates on the calendar.
Recurrent frequency.
Google Maps and WPML support.
Flexible settings and calendar options.
Tons of other features and functionalities prove it to be a well-planned widget.
Coming down to the second-last of this list is the Events Schedule. This WordPress events calendar plugin is the most straightforward among our selections, and it works perfectly for an event organizer.

This calendar and scheduling gizmo also comes with booking facilities and lots of design options for events.
Key features
Here are the features you can't ignore.
Adjustable color and styling apart from pre-built design.
Google Maps and WooCommerce integration.
Five filter categories and twelve schedule styles.
Timetables, tickets, bookings.
Visual composer.
Responsive and SEO-friendly.
Multisite support.
The simple calendar and planner is for basic WordPress users. But it can also be modified and used in all sectors.
To conclude the article, here's a WordPress event registration plugin, EventsPlus. It's ideal for creating seminars, workshops, concerts, classes, conferences, etc.
Using this tool, you can sell tickets, manage the occasion, and keep track of people who are attending your event at the same time. In short, you can stop wasting money on extra addons!
Key features
Check out the list of features it offers.
Advertising, ticketing, and registration.
Google Maps and WooCommerce integration.
Countdown timer and discount coupons for events.
Social share button.
Responsive layout.
Payment, tracking, and adjustment of published events from the admin panel.
Unlike other tools, many useful features are embedded in this plugin so that you don't have to buy more. To sum it up, it's an all in one event calendar.
Final notes
WordPress event calendar plugins are not just for experts to use! These tools are user-friendly and have tons of easy features for all user levels.
Finally, the nine plugins we have illustrated here are all popular for their flexibility and a massive stack of features. You can create interactive and well-organized event calendars for your WordPress site with these.
Try out one and let us know about your experience.