How to Create a WordPress Order Form [3 Simple Steps]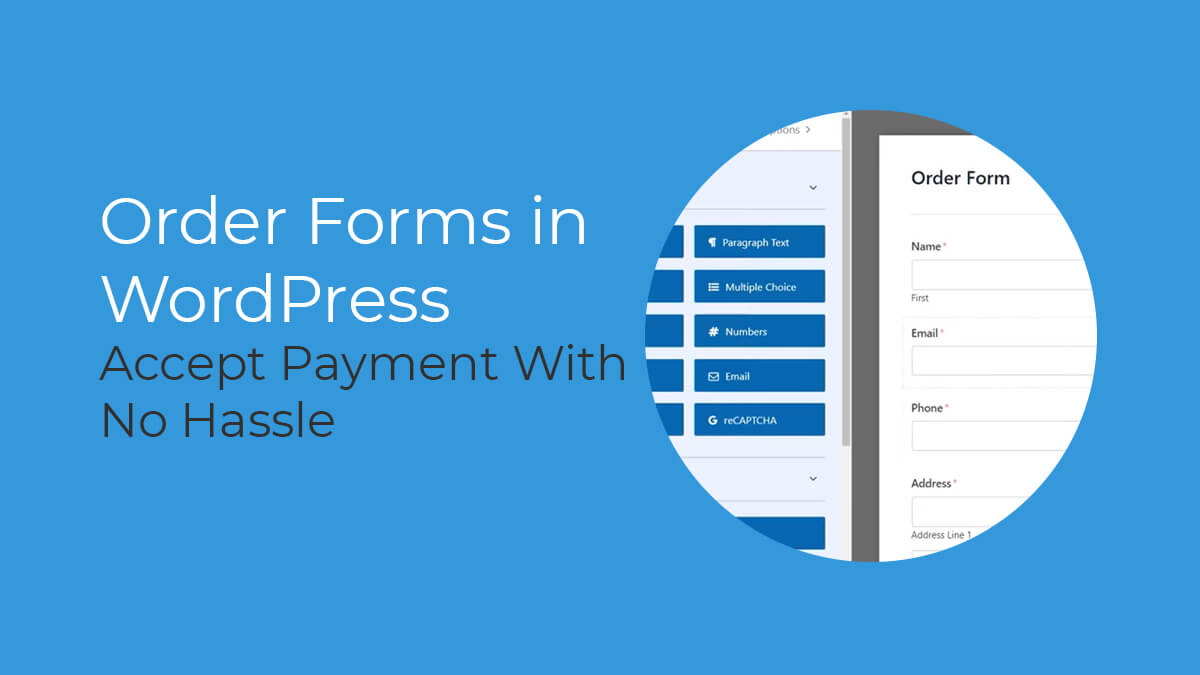 A simple customer order form is a real time-saver when you want to collect money without getting your hands too dirty.
If you want to know how to create an order form and integrate it to your WordPress site, this step-by-step tutorial is right for you.
With the combination of WPForms and its powerful payment integrations, you can create an order form in a few minutes along with receiving payments from customers whenever they fill out and submit the order form.
As WPForms proved how powerful it is in terms of generating beautiful WordPress forms, you can feel the same with order forms.
What's more beneficial, customers will get more choice with the form beyond just making an order.
Today I'm going to show you how to create an online order form for your WordPress website even though you're not a tech-savvy.
How to create a WordPress order form that accepts payments
Online businesses are getting more popular every day since many people want to build a side hustle.
Things even get crazier. The opportunity for starting a fully-blown venture is striking fast.
If you're planning to join the force of entrepreneurs with your own store, it's the time.
Whatever you want to sell – be it a service or a product – there's an easy way to put everything in line.
People with good hearts may think about collecting donations for their initiatives. An order form can be the exact answer fit to all your questions.
I'd like to show you how you can set up the environment to collect payments via your WordPress websites.
With the following steps, you'll be able to allow your customers to order and pay with their credit cards and PayPal.
Step 1: Create a WordPress order form with simple steps
Anyone can build a form in WordPress if you choose a user-friendly form like WPForms. Even this brilliant WordPress form plugin has order form templates ready to use.
Before going any further, you have to install the plugin and customize everything in your way.
Get WPForms now. It's worth the small price it costs.
Now head over to your WordPress dashboard and go Plugins, then Add New. From there, click Upload and locate the place on your computer where you store the zip.
Activate your plugin and provide the license key. WPForms is now ready to give you a fantastic experience.
To create a new form, click Add New from WPForms inside your WordPress dashboard.
Navigate to WPForms through the left sidebar from your WordPress dashboard.
Click Add New to get started with a new form and choose among the templates available there.
Give your form an identifiable name and select a template for order forms.
Right after that, you'll need to customize the template to make it perfect for taking orders.
There are multiple items available to pick and integrate. You can find them on the right-hand side. Click the one that aligns with your business.
Once chosen, the item will appear with field options, and you have to review each field.
First, rename the field and then add more items or delete some. Also, write the correct prices for each item.
As a smart form builder, WPForms also allows you to present your products with images.
To enable this option, simply check the box that says "Use image choices" from the bottom of the editor.
By activating this method, you can upload images related to your items. People can get an idea of what they're paying for.
You're almost done with your order form creation in WordPress.
To fill out your form with more essential fields, you can drag items from the left sidebar and personalize them.
When you think everything's perfect, click Save.
Step 2: Configure Your Form Notifications
Form Notifications can give you a really helpful way to get informed instantly about a submitted form.
WPForms has a default option to send email notification to you as an admin.
Moreover, you can add your team member in the notification list so that they can be in the loop as well.
Not only that, you can setup an automated email for your users whenever they submit a new form. That's the most exciting part.
Another interesting feature of WPForms is smart tags that allow you to notify your customers about the order.
Now, I want to walk you through the process of form notification setting.
Go to the Settings of WPForms from the dashboard and click Notifications from the list.
Here some customizations are needed. You have to provide instructions for selecting the email address after someone places an order.
As you don't know the email address before someone puts it in the field, you have smart tags to help you out.
You can see a field that reads Send to Email Address. From there, click Show Smart Tags.
Now choose Email and WPForms will understand that you want to send notifications to the address placed on that field.
Change the email subject to make it more meaningful and relevant to the order.
After that, customize other elements, as well.
You can also add text in your email to make it more personalized.
Step 3: Connect the payment option
Although your form is now ready to take orders from your customers, you need to configure the payment option now.
The good news is WPForms has multiple payment methods support so that you can connect with different range of customer groups.
Three popular payment gateways are available with WPForms, which are Stripe PayPal, and Authorize.net. You can use all of them or a specific one based on your customer's needs.
WPForms has separate addons for every payment method, and you require to install to activate them for your order form.
After installing the right payment addon, head over to the Form Editor and go to the Payments tab.
I'll show you how to integrate PayPal to your form. Click PayPal from Payments and enter your PayPal email address.
Click and Production and select Products and Services.
There are other settings too. You can adjust them according to your necessity.
Once you're done with all the configurations, you have to click the Save button.
Now you're ready to add your simple order form on your site.
You can add your form to your website to get orders and get paid for your products/services.
Get WPForms and start creating order forms that accept payment right on the WordPress website.