10 WordPress Security Mistakes Not Made by You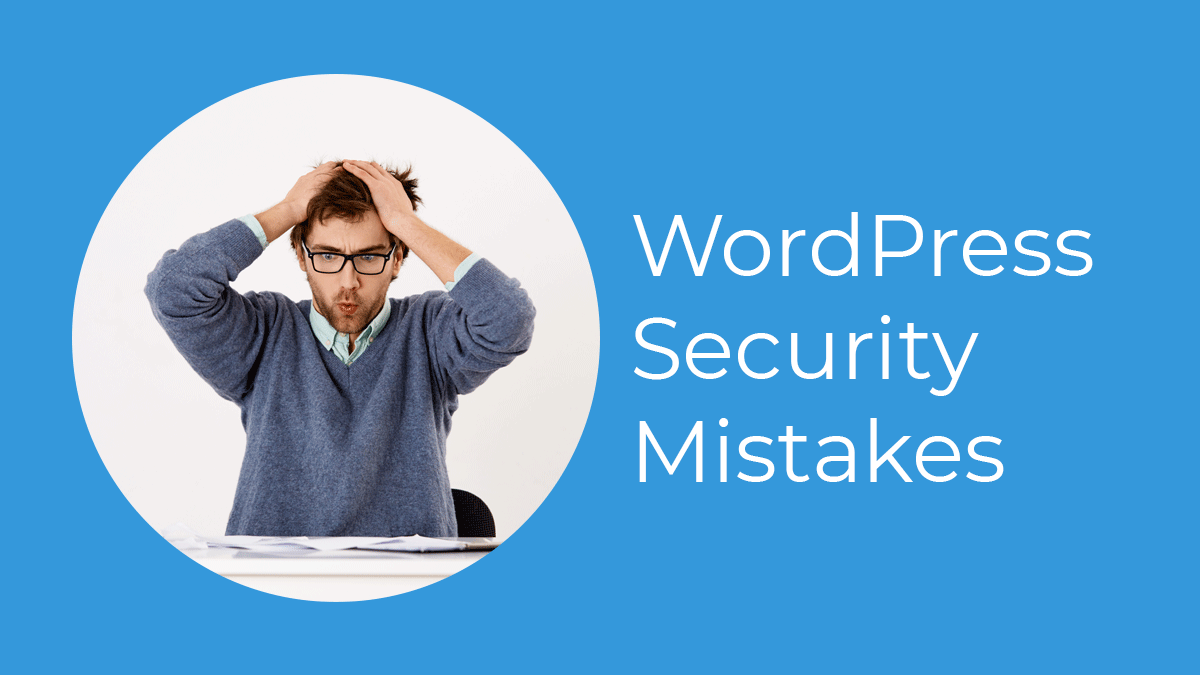 Don't take it granted if you ever happen to see your site got compromised.
If you can take care of these WordPress security mistakes, you can reward yourself with a secure site hard to break.
Hackers have many intentions and are always on the search for a site that is lenient to enter.
By implementing the best WordPress security practices, you will be able to run your business without any tension of being robbed.
If you don't have any clue why you need to tighten your WordPress security, then you're at high risk.
Let me tell you why hackers look for a website with loose security:
They want to inject malicious links that will boost their illegal trades
For mining cryptocurrencies by using your user's browser
Creating keyword-stuffed pages to rank their content or services
Redirecting users to their targeted websites
Getting insider information from your database
Collecting users data and use it for business expansion
Spreading hatred and terrorism via your platform
Generating countless backlinks to get a quick boost for their sites
WordPress security mistakes to avoid getting your site hacked
Here are ten security mistakes usually made by the WordPress site owners and invite hackers to break the wall.
Check if you're making them and learn how to stay safe.
Shared hosting can cause you some loss
In general, your hosting is responsible for the majority part of your website security.
Many cases get simply resolved with the hosting's elementary function, such as DDoS protection and SSL encryptions.
The problem occurs when you choose a plan that's shared with other websites.
You can't get your preferred tool, and you can't have control over other users.
Try to avoid managed and shared hosting, and go for dedicated plans if possible.
Otherwise, you have to take some extra initiatives on your own.
Lack of robust backup
It would help if you had the right backup solution for your WordPress website unless you want to get a harrowing experience.
In case of data loss by any means — hacked, deleted, destroyed by a spammer, you can regain the entire website with the handy WordPress backup plugins.
Choose a powerful solution and keep an option open for regular backups, and you will never regret it if anything unwanted happens.
The backup service can store every part of your website, and that includes theme files, posts, and pages.
For a general website, you can switch on backing up daily. You may even set up an additional email to receive the information there.
Keep a different version of backups on multiple locations to be extra cautious. Cloud storage such as Google Drive and Dropbox may come handy in this particular need
Online store owners make sure of having real-time backups as there's your financial information: sales reports, orders, customer information, delivery details, etc.
Not updating WordPress regularly
WordPress launches its updates now and then. You can see the message whenever you enter your website.
If you're neglecting the upgrade because you have a small website, and hackers won't try to breach your guard, you're assuming it wrong.
Hackers target websites that are easy to crack, not the big sites with tons of traffic.
As a business owner, it should be your priority to maintain your site regularly.
By updating WordPress when it comes to a new version, you can make sure your site is up to the mark – regarding security and quality.
Every update comes with new features and functionality, and it will take time for hackers to get along with the fresh releases.
Pro-tip: Upgrade WordPress from your hosting provider; otherwise, you may get yourself locked, and you have to restore it from the cPanel, which is a cumbersome task for noncoders.
No firewall activated
One of the common and overlooked mistakes is not using a firewall for your WordPress site.
The best thing you can do to harden your website's security is using a hard-to-crack firewall.
A firewall is a security measurement that guards your website against getting attacked by malicious threats.
Hackers use malware to get a sweet entry to your database and cause irreversible harm by leaving deadly redirects and bad links.
Your SEO efforts may go in vain with the spam links pointed to another site. Hackers also may create dummy pages with keywords stuffing which will bring you only negative impact
Cryptocurrency miners leverage malware to get inside to a website and look out for cryptocurrencies from visitor's browsers. If users find that you're using them for mining, they will no longer trust you.
Redirecting visitors to other websites is the worst thing a malware can do on top of adding spam links. This trick could be used to populate traffic on their website or generate an unsecured version of your site to get the user's personal information.
What a firewall can do is protect your site by not approving IP addresses trying to access your website.
Keeping deactivated plugins
Another critical issue, however, overlooked often is not updating plugins regularly.
When a new version releases, the old piece automatically gets deprecated, and hackers get a sweet entrance with the unprotected code.
Besides that, you may keep the plugins deactivated when you stop using them.
After deactivating a plugin, delete it immediately if you're sure you need it no more.
Even if it's needed, you can always install it from the plugin directory. Right?
Not scanning regularly
As a cautious and smart webmaster, you need to scan your website for vulnerabilities on a regular basis.
Don't worry. Some tools can do the task every day and get back to you if anything's unusual found.
Without proper scanning, your site could be one of the 18,500,000 hacked websites every day, a victim of 17% banned websites by Google!
WordPress security plugins can perform regular scanning and watch out the vulnerabilities to notify you.
Malware can hide under WordPress's core files. So, the scanner will match those files against the WP directory, and if anything unusual occurs, you'll get the alert.
There are some common malware structures, and your protector will see if there's anything like that.
Using unpopular plugins and themes
Let's make it clear: being unpopular doesn't mean bad.
A product that releases today has not many downloads, but I can't talk against its potential.
Find the products from reliable brands in the industry for years with goodwill and positive reviews.
Check out the plugins on the WordPress directory, and see how many reviews they have and their overall score.
If you are new in the industry, search for the best quality products on Google, and read the reviews.
Even if a plugin's from a trusted source but has more negative reviews, ignore it.
If it seems like the vendor is fishy and complicated, then don't go for it.
Also, be careful while you get offers from Facebook community, google ads, and emails.
Many spammers are hiding their faces behind those lucrative offers.
Fan of nulled WordPress addons
Are you one of them who loves to get premium WordPress themes and plugins without paying the cost?
Then, wait for some bad news.
Developers spend hundreds of hours, and companies invest thousands of dollars to build those themes and plugins.
It's always a bad practice to enjoy someone's hard work without paying what they deserve.
Plugins and themes don't cost that high in terms of the benefits they provide.
There's an affordable option for every kind of tool. You have to find it out.
Furthermore, if you're going to start barehand, you'll find tons of free WordPress themes and plugins with excellent quality.
Nulled themes and plugins are injected with malicious spams and links, which you can identify.
At the end of the day, you have to compromise without knowing how they got entered!
Not following best login practices
Did you know that the login page is common backdoors for attackers on the WordPress website?
It's mainly because of the identical login structure and other easy ways you keep using.
By practicing some right methods, you can make it harder for the evils to make it through your WordPress dashboard.
Here's a few of them:
Change your login URL by customizing it with including a secret word, which is possible with a WordPress security plugin.
Many webmasters don't bother changing their username as "admin" as they think nobody knows the password. Use a username that's hard to guess.
Another common mistake made by the site owner is using a common password like admin1234 or name365. These types of passwords make access to a piece of cake for hackers.
Lastly, don't keep the display name username the same. Otherwise, you're making it easier for them to figure out without a hard effort.
Every user is an admin
You probably know that WordPress allows you to add multiple users to your dashboard.
But, are you aware that there are different roles you can assign to different users?
So, you can define everyone's responsibilities. Thus, you're limiting the risks of getting your sites compromised anytime sooner.
Admin: They can change anything that includes installing a new theme, updating a plugin, or removing a user.
Editor: They're responsible for modifying and publishing content on a WordPress site, be it their content or anybody else's.
Author: They also got a similar role, which is associated with publishing and editing content.
Contributor: A contributor has limited right on content that allows editing and deleting content but not publishing.
Subscriber: They have no editorial access except reading the content of your website.
Now, decide whom to assign to what. Just don't make everybody your admin.
Bottom line
These are the common mistakes webmasters make at their WordPress sites.
If you don't want to be one of them, follow the best practices and restrict hackers from messing around.
A secure website can give you peace of mind and allow you some extra time to focus on growth.
Read my discussion on security plugins for your WordPress site.