Best Amazon Affiliate WordPress Plugin – AAWP Review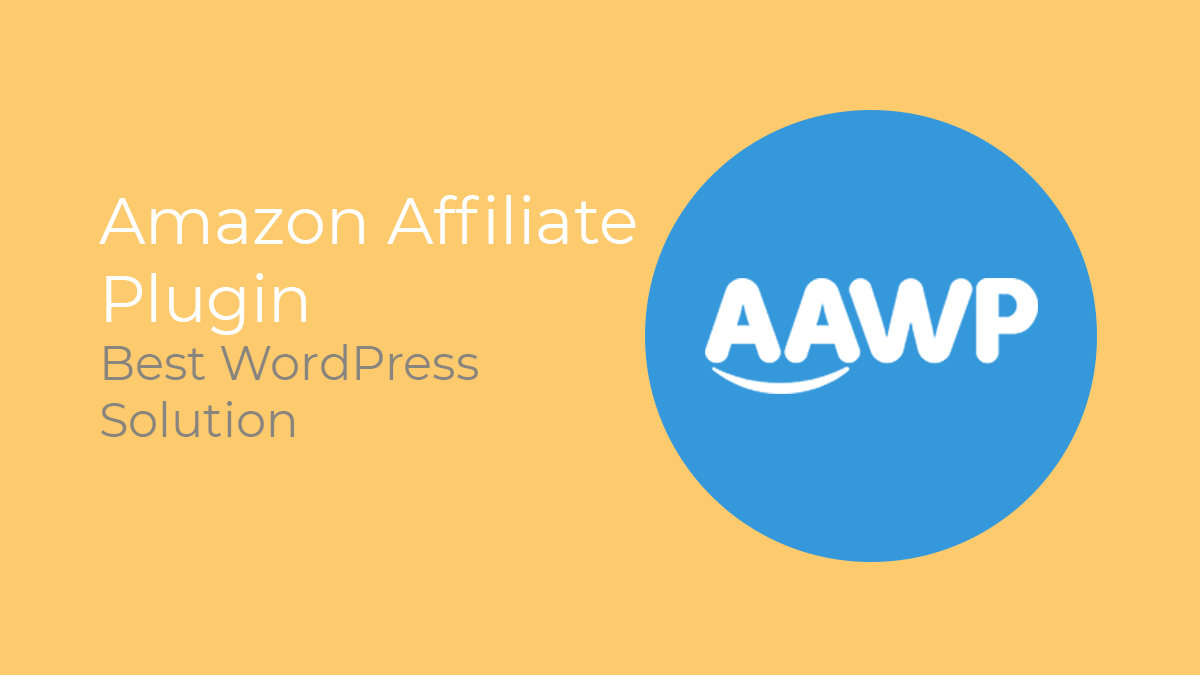 Amazon affiliate marketing is the most popular business model in the entire globe, where the participation of mass people is humongous. Because Amazon is a trusted site and offers countless product variations, people love to be part of this network – as a buyer or seller or marketer.
From market research to content promotion, there's a lot to do to make an affiliate marketing business successful. Thanks to Amazon affiliate WordPress plugins that reduce the burden from your shoulder. Every plugin made for this purpose can resolve some problems, but why don't we pick those with multi-action?
Not all, but I want to discuss only the best Amazon affiliate WordPress plugin in this post. I've chosen AAWP as it's leading the current market with its cutting-edge features, affiliate-prone facilities, and profit-oriented technology. Let's discuss more!
Why do you need an Amazon affiliate WordPress plugin?
You may ask this question if you're new to this industry. Experts know the reasons why they love such a tool. An Amazon affiliate marketing tool can:
save your time as it accomplishes tons of tasks instantly
help you present your content an organized way
allow you to create and reuse promotional content
assist you in maintaining a smart workflow
increase CTR, user engagement, and revenue
guide you make content that matter
offer you many readymade options to deploy
What is AAWP?
AAWP is a WordPress plugin for Amazon affiliates. This plugin will help you create showcase tables for product presentations that increase user engagement and more sales! With this tool activated, you don't have to worry about the price updates because AAWP will fetch that in an automated manner. It creates affiliate links for you, reduces API requests with caching, and gives more freedom with prepared styles. Comparison tables, geotargeting, bestseller lists – the possibilities are endless with this affiliate WordPress plugin.
Why AAWP? Is it the best Amazon affiliate WordPress plugin?
As I have chosen AAWP for the best Amazon affiliate WordPress plugin, I should explain the reasons behind it. Choosing AAWP as the best affiliate tool was not an easy task because other contenders exist in the market. Still, I made it through this plugin mostly for its all-in-one kind benefits.
That means, AAWP equals to several other plugins altogether. What you can achieve with different WordPress plugins, you can accomplish the same with this single option. AAWP offers so many things that you can invest your time and effort into thinking about business promotion, not about how to collect information from Amazon and mange the affiliation.
Any plugin can offer tons of features, but does that mean it's the best? I didn't consider the number of features AAWP offers (I couldn't ignore them, as well!) over the quality, the value I'm getting as an Amazon affiliate marketer. At this point, AAWP surely breaks the barrier and opens a world of excessive freedom.
Let's choose AAWP if you want to:
Take your Amazon affiliate marketing into the next level
Gain more clicks and earn more revenue
Grab higher customer engagement
Enjoy a dynamic affiliate management system
Create remarkable content with no pain at all
Hands-on an exciting system with no coding needed
What AAWP offers for your Amazon affiliate marketing success
AAWP is genuinely a feature-rich WordPress plugin, and I'm going to discuss all features here. You can check out their page for more details. What I'm trying to do here is to give you some reason to trust this plugin and select it for your affiliate championship.
Comparison tables to display more information at once
Consumers can make decisions easily from comparison tables. When they know the differences among various products, they feel more successful in choosing the right selection. AAWP comes with this inherent comparison table builder option. Compare multiple products and attract more customers. Product image, star-rating, buy button, reviews count, HTML, text, and other content types are currently available with AAWP.
The benefits of comparison tables are:
Display comparison with various products
Easy content creation with dynamic table builder
Create something like "top 5 products" with different variables
Include different types of content to make the perfect overview
Easy affiliate management
Another grand benefit of AAWP is its easy affiliate management. Amazon is an insanely large store, and you have to sweat big time to fetch the relevant info from it. With this Amazon affiliate WordPress plugin, your efforts become less. For product updates, you don't need to go to Amazon manually every time. The plugin will get the information, such as price using the API.
Another feature to keep your head fresh is automatic affiliate links. This fantastic plugin will create links with tracking ID for you, so you don't have to go every time to the Amazon affiliate dashboard and generate the links manually. Caching is such a prominent feature that can store product information locally. As a result, there will be fewer API requests, which is good for your site's health.
So you will get:
Automatic pricing and product updates
Automatic affiliate link generation with your tracking ID
Caching for keeping information on local storage
Geotargeting for international customers
If customers come from anywhere rather than your target country, you can earn commissions from them, too. The geotargeting is a powerful facility that turns your international visitor into the right customer. They will be redirected to the local Amazon store while you'll receive the commission if they buy something.
Bestseller Lists
Curated lists with bestseller products are more convincing than a big collection of products that makes people confused. Now with these plugins, you can easily create bestseller automated product lists. They would be like "Top 10 Best Vacuum Cleaners" or "5 Best Wireless Headphones". When you're confining the products in the lists, several benefits will come at you:
An overview for people in a hurry
Assisting customers to choose from the select few
More clicks = more sales
Presenting the most important information
Prebuilt templates and custom designs
AAWP will also streamline your productivity with its readymade templates, which are well-designed and available to deploy. You have the freedom to choose between horizontal and vertical boxes. Furthermore, you can optimize your content with lists and tables. Stay relax! Your freedom is not limited to all these. Various styles and designs are available to blend. You can customize the layouts according to your site's look and your need.
On top of that, you can edit the existing templates to give them a perfect look according to your desire. More amazingly, you can create a whole new one if you want to achieve more satisfaction. The template engine of this best WordPress Amazon affiliate plugin is such a cool option to tweak your product presentation into a different level.
Gorgeous presentation
Comparison tables convert better than other presentation techniques because people can get a bird's eye view of many products in one place. AAWP empowers you with a fantastic table builder so that you can craft amazing tables effortlessly. Apart from that, you can utilize product boxes to promote particular products that look enticing. These boxes are optimized for more engagement and better conversion.
Shortcode-enabled tables and links
Because of the powerful shortcodes, you can reuse a single table as many times as possible. AAWP offers this excellent option. If you want to use the same table in multiple places – no need to create a new one every time. Copy the shortcode of the previous table and paste it anywhere you like. Text Links Placing customizable text links inside your running text by making use of our shortcodes.
Responsive and mobile-friendly
Every single table you create will automatically turn into responsive mode across the smaller devices. People from mobile browsers can enjoy product tables with a perfect, mobile-adaptive shape. The number of people browses from their mobile phones is huge, and you need to make sure your content appears perfectly. Choosing AAWP will keep you in peace as it reduces worries for mobile views.
Connect with all amazon partner networks
USA, UK, Germany, France, Spain, Italy, Canada, Brazil, China, Japan, Mexico, Netherlands, United Arab Emirates, and India – Amazon has partner networks in these 14 countries. AAWP supports all of these networks, and you have truly no boundaries while earning commission from your preferred location.
Automated updates from Amazon
Since this plugin uses API of Amazon, the product information will remain up-to-date. Especially, the pricing is a big "worry" for Amazon affiliates. You need to update it right after it changes to the site. If you don't make the changes on your site, Amazon will punish you with banning your account. Thanks to Amazon's affiliate plugins, now they update the product information immediately.
Final verdict
When it's about Amazon affiliate marketing, readymade tools can help marketers achieve their goals sooner than their estimated time. I recommend you to go with the plugin built for your ease and comfort. However, WordPress plugins can pave your way of success since the major affiliate websites are built on WordPress.
Why I'm saying AAWP is the best Amazon affiliate WordPress plugin? Its ease of use, flexibility, beginner-friendliness, and top-of-the-world features make it an unbeatable choice. Altogether, you can use this WordPress plugin to extract more revenue from your affiliate marketing journey.
If I summarize AAWP and its benefits:
It offers more features that open more possibilities
All the features are valuable and highly beneficial
Readymade designs are simply pain remover
It covers almost everything you need as an Amazon affiliate marketer
The price is reasonable which you can pay with your Amazon commissions
It thinks about making life easier with lists, templates, widgets, shortcodes, caching, and more