Thrive Apprentice – Say Hi To The Next-generation LMS Tool
Finally a course builder for everyone!
Thrive Apprentice will give you an escape from your everyday experience to build an online business beyond just creating a learning platform.
WordPress LMS plugins are great. But they have many dependencies regarding advanced functionalities. It's hard to achieve a professional look for your online school with the LMS tools you've known.
Well, that's what Thrive Apprentice is about to change. It wants to give you freedom and total control over the platform and everything from course design to landing page customization.
Unleash more power with the template editor, the complete visual builder, the unique checkout experience, and your favorite Thrive Suite.
It can be summed up in one word – epic!

My next question is could Thrive Apprentice be the best WordPress LMS plugin? We'll try to figure out that through the entire post. Stay relax and carry on.
Features in a nutshell
A true friend of all WordPress theme
Create online courses with 100% control
Easy drag and drop course builder
Dynamic labels will increase more customer engagement
Scale as you grow without paying anything extra
Pre-designed course templates
Customize login and registration forms with more freedom
A rich set of templates for landing page
Compatible with any WordPress theme
No need to worry about your existing WordPress theme. Thrive Apprentice is built in a way that it can perform very well within any WordPress environment. It won't ask you to change your theme to get the best experience.
Working with Thrive Apprentice is like working in your familiar environment. Like building a new page or customizing it. No design breaking or compatibility issues. Cheers!!
Own your content and chill
You know how WordPress websites work. You create content and own the whole website. Right?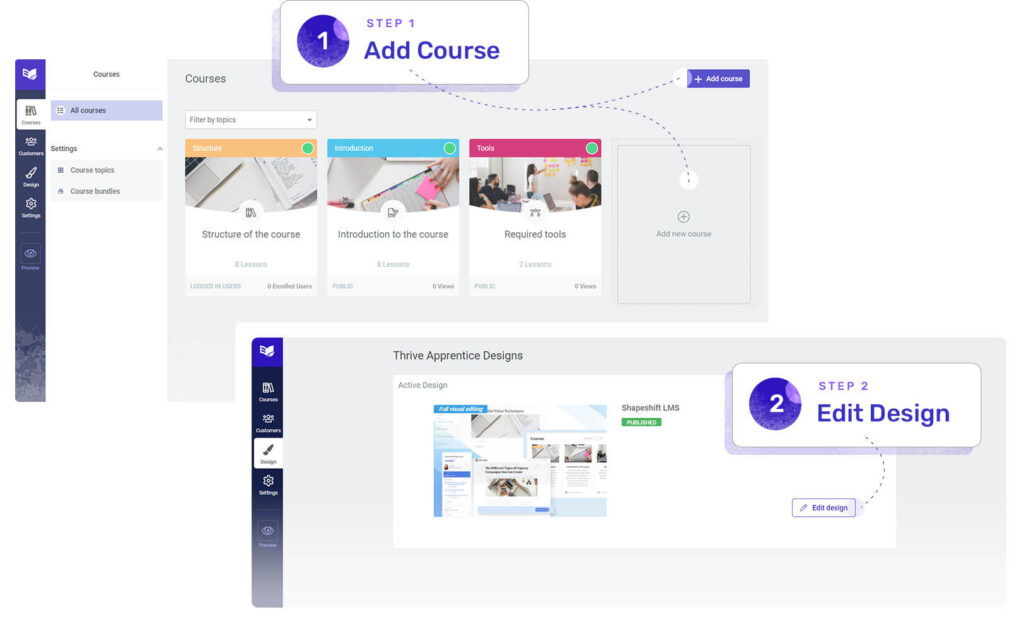 Thrive Apprentice is here to give you the same good experience where you're the creator as well as the sole owner of your learning platform.
Thrive doesn't want to take this away from you. Meaning, you're creating a platform within your website, and you have full control over everything you want to do.
Pay once but grow as high as you can
Let me translate this for you. You may start from zero, but you'll grow at an insane level. From free courses, you may turn towards premium courses. One day, your gross income may touch thousands of dollars milestone.
The amazing part is Thrive Apprentice won't charge you for the extra income. You'll pay once at the beginning, and when you become successful, you have to pay NOTHING!
So, build as many money-generating courses as you can. The sky is your limit.
Create lessons that students will love
And no sweating for you. Because you want to thrive with a total focus. Thrive Apprentice made the course-building process ridiculously easy.
Go to the dashboard and start your journey by preparing the course materials. Let's decide what you're going to add – chapters, modules, lessons — all inside the dashboard.
Later, you can come anytime and rearrange the course structure to meet your student's requirements. Take advantage of the drag and drop builder and make sure you've achieved what you've dreamt of.
Dynamic checkout experience
To skyrocket your success, you need to ensure a better customer experience. Thrive Apprentice allows you to show dynamic labels based on the customer status.
Let's say you're selling multiple courses on your site. A customer may have bought one course, but still, you have the chance to sell other courses, as well.
A visitor can know which courses they're yet to buy from the dynamic label. Similarly, the labels will be changed if they're existing customers, and then it will tell them to get the recently uploaded lessons.
Customize login and registration forms
You might have some bad experiences with registration forms in other LMS plugins.
Thrive Apprentice is here to turn frustration into happiness.
You can create and design beautiful login and registration forms with the power of customization Thrive Apprentice offers.
Students can enjoy a smooth login with a great experience. Not only the forms, but you can also work on the whole page to make it look eye-soothing.

A unique visual design experience
Thrive Apprentice loves to give you more freedom with your classroom customization.
You can change the total student experience and make it just phenomenal. You already have control over designing Lesson Resources and Course Overview pages.
But now it got even better.
Thrive Apprentice offers some cool course templates, which are similar to niche-specific WordPress themes. In your case, online course selling.
Currently, a few of them are available, but you'll be receiving more in the future. Use them to attain an unforgettable student experience without losing much time.
Eager to know how would be the visual editing experience with Thrive Apprentice?
At first, the school quick start wizard will guide you through setting up the platform at your desire. Moving forward, you can create and edit the lessons and courses from the template editor.
There are six core templates to help you begin.
Default Lesson
Video Lesson
Audio Lesson
Default Module
Course Overview
School Homepage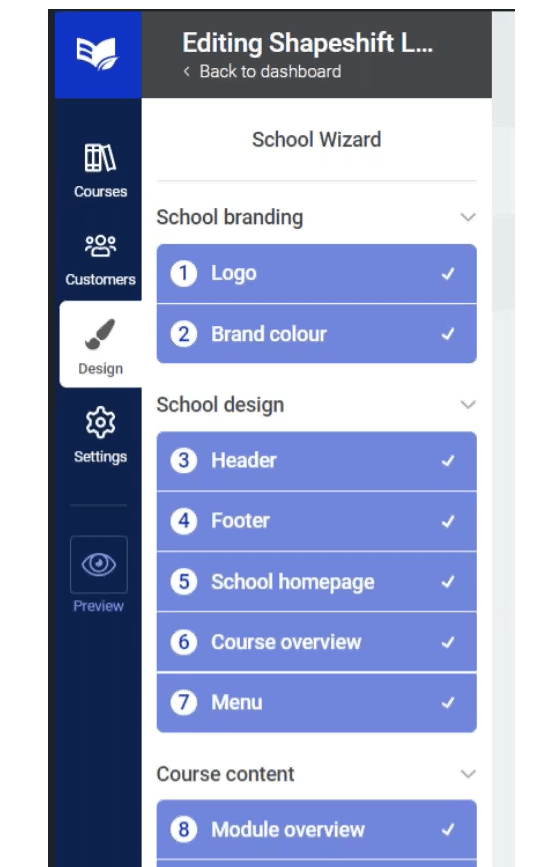 Are you wondering how the school wizard can make your task easier? Well, you can complete the initial setup with zero headaches in the wizard.
It will quickly let you set up the whole environment
You can add a logo and fix brand colors
Customize the header and footer
Bring your old pals into the new platform
If you have an existing learning platform with a list of active students, congratulations! You've already done the first step.
Now you want to move on to Thrive Apprentice to enjoy all the exciting opportunities it offers?
No worries. It's been taken care of. All you have to do is export your current customer list from your existing course builder. Then import the list to Thrive Apprentice by using the Customer List feature via a CSV file.
Now approve access to students or remove them from a course. It's that easy!
Easily duplicate existing courses to make new ones
Let's say you want to create multiple courses that share the same structure and design. You don't need to create the courses from scratch.
Thrive Apprentice allows you to duplicate courses instantly with the one-click Course Cloning feature.
After creating one course, click the duplicate button. Now work with the content to make it unique. That's it! You've got a new course in a few minutes.
Sell more with course bundles
If bundles convert big, why not create some?
Yes. If you have multiple courses and want to sell all of them, bundles can work like magic.
Besides, bundles add more value and help you earn more returning customers.
Another benefit of bundles is you can sell your less popular course with a high-demand course.
Now you can sell multiple courses together with bundle creation inside Thrive Apprentice.
Get help with the power of WooCommerce, ThriveCart, or SendOwl. These are the native integrations of Thrive Apprentice for checkout.
Membership plugins integrations
First of all, you don't need a membership plugin to protect your courses. Thrive Apprentice has taken care of that very well. But you may require them for other pages, and that's why Thrive Apprentice comes with three native integrations for membership plugins.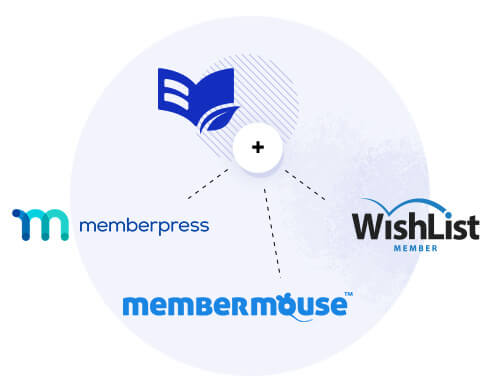 Currently, you can connect with MemberPress, Membermous, and WishList Member, if you want to start membership-focused online business. Thrive Apprentice has Restrict Content feature within its environment. But if you want to apply restrictions to other pages outside course builder, then connect one of these popular integrations.
Also, for drip content delivery, these integrations can help. Within a few days, you'll get the drip feeding option inside Thrive Apprentice; it was on their roadmap.
Create courses in your language for your people
Not necessary the content must be in English. It might be in your language too.
In that case, you can create courses for your target users in their native languages.
Thrive Apprentice is translation-ready, so I don't see any barrier to move forward except your lack of interest.
Create lessons in your desired language, translate the landing page, and make the entire school your own.
Conversion-focused customizable landing page templates
How about having some ready templates for creating awesome landing pages? I know you're nodding your head with so much positivity.
Thrive Apprentice does know that and comes with a collection of landing page templates. And that is for particularity designed for online courses. How amazing is that!

Let's play with funneling and build one that converts like crazy. Inside template editor, you can quickly set up your landing page with ease and comfort.
When I say "play," I mean different kinds of funnels that can bring you maximum benefits. The funnels may vary across marketing, sales, webinar, lead generation, and more.
Sell more courses with advanced features
To change a course into subscriber-only is a matter of a single click. And more advanced options will give you the power to make your learning platform more professional.
You can restrict access to courses so that users have to go to the landing page and buy that course.
Thrive Apprentice has deep integrations with ThriveCart, SendOWL, and WooCommerce. You can connect them to make the checkout experience better and smoother.
With Thrive Apprentice, you don't need to depend on other membership plugins unless you're supposed to protect pages or posts of your website.
The layout you need to customize
Inside Thrive Apprentice editor, you'll find different layout sections that will give you complete freedom to design a course page.
What sections are available in a layout: header, footer, top, bottom, content, and sidebar. You can add elements to each section in order to get a perfect view.
Payment methods
Already I've mentioned what integrations are available with Thrive Apprentice to improve the checkout experience. Now let's learn a bit more about them.
ThriveCart: This is a brilliant cart solution for your e-commerce store. It has incredible features and advanced functionalities. But you have to be ready to pay an enormous amount of $600, which might not be possible for beginners. If you can afford that, I must recommend it as a payment solution.
SendOWL: Here's another superb payment option for your Thrive Apprentice learning platform. It has many excellent features, but you might face some difficulties setting it up.
WooCommerce: WooCommerce is known to all, and it has an easy setup option. Besides that, you'll get tons of add-ons connected to this famous e-commerce solution. The most fantastic part of WooCommerce is you don't have to pay anything as this is a free plugin. However, I recommend this tool for beginners.
Your call
I think I have explained elaborately about Thrive Apprentice, and now it's time to take action. Thrive Suite is a trusted business solution that makes the newly introduced LMS plugin a great member of the family.